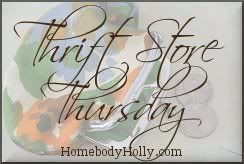 It's party time again! Woohoo! Don't you just love these wonderful parties! This is my first Thrifty Thursday!
I want to thank both
Leigh at
Tales From Bloggeritaville
and Holly at Homebody for being such a lovely host! Make sure you pop on over to her blog and say hello.
Before I show my finds, just a little explanation. I only started blogging mid-May. I was so green, I didn't know anyone or anything! I had no idea there were such things as these fabulous blog parties! Long story short, I posted my finds and no one found me lol!
So I gonna show a few of those items again only because I have nooooo time this weeks and the photos are already uploaded! I promise fresh finds next week...(got some really fabulous finds to share then! ;-)

Ok, well lets get this virtual party started!
I love white soup tureens; but I am picky, I won't just buy any...I want the matching lid and ladle. I've passed up many a pretty one because no ladle. I found one at a nearby thrift store for $8.99! No hallmark, but it's very heavy and thick! No chip, cracks, crazing or hallmark. That makes this one a keeper!
Picked up this darling white duckie casserole for $6.99, no hallmark, very thick and heavy, it's little and so adorable!
and I found this darling pretty in aqua and pink figuriene, she was the same price as the first soup tureen at $8.99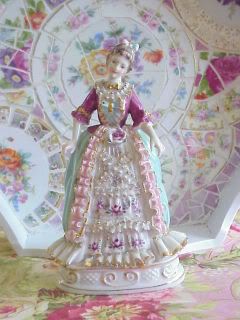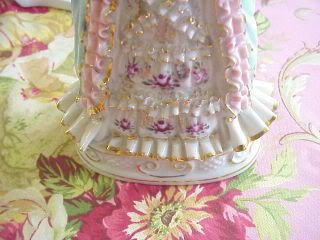 She has a mark on the bottom, but I don't recognize it, it looks like two sabers crossed. If anyone out there knows the mark, I'd be grateful to know who made this.

I almost forgot, one more soup tureen! This one is whimsical. I came across in either TJ Maxx or Marshalls a while back and I could not resist it.

Paid 9.99 for it. I love it's quirkiness and the detail. Underneath it is hallmarked handmade in Portugal. The best part of it was the fish ladle.

I thought it would great at my beach house (just dreaming now). Hey, if you dream it, it will come...yes? lol
Now, if anyone out there recognizes the mark on the bottom of that figuriene, please do let me know!
Don't forget to check out my How To blog (topic list are at the top of the left margin)!
Oh, and don't forget to pop back over the Leigh's Thrifty Thrusday #23 and to Holly's Thrift Store Thursday to see all the other fabulous finds!
Happy hunting!