Here I go again! I've found another fun blog party! I love the whole concept of three or more. Don't ask my why...I've not a clue! lol

Kudo to the host, Tam of Gypsy's Corner! Be sure to stop by her blog to see her wonderful offering as well as the lovely party favors offered by the other participants!

If you are new to blog parties, you are welcome to join in, even if you don't have a post. Just click the link at the bottom of this post that will take you right to Tam's party list of participants!

Without further ado, my first Three or More Tuesday offerings!

We begin with three whimsical china mosaic stepping stones. I created these for a customer who wanted me to repurpose their three kitty chef ceramic trivets.

Followed three more of my creations. Three Vintage Button Mosaics photo frames and a darling baby birdhouse.

I used vintage adderley china roses on two, a vintage flower pin on one. The Little birdhouse is perched on top a crystal candleholder. The pearls are a combination of glass and faux.

Last, I offer three generations. This was taken in April. That's me on the left, my amazing and beautiful Mama (she's 83 years young!) in the middle, and my amazing and beautiful daughter on the right.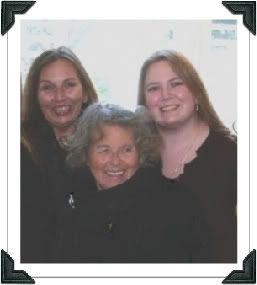 Thank you so much for viewing my offerings! Please be sure to pop back over to Tam's party list of Three or More Tuesday to see more wonderful offerings!

Enjoy!