Last week was incredibly busy here. I've been so excited about my new favorite past time, blogging, I've fallen way behind on everything else! Plus, I've been fighting off a flu, it's winning. So I'm a bit under the weather this weekend.
As some of you already know, I love blog parties! As I've partied about, I've noticed that several have combined the blog party of the day. So, I thought I'd give it a go.
I've wanted to participate in
Blue Monday
hosted by
SmilinSally
and I love participating in
Today's Thrifty Treasures every Monday
, hosted by Rhoda at
Southern Hospitality
. Since the themes for Monday coveres both blue and fabulous finds, I've combined them.
If you are new to blog parties and would like to see what all the excitement is about, I've included a link at the bottom of this post that will take you to the hosts' post that also includes a list of all the participants! Give it a go, you'll love all the wonder posts that each participant contributed! You get loads of idea and do a lot of ohhh and awww; and see some creative and fabulous blogs!
Without further ado, I present my first Blue Monday and Today's Thrifty Treasures!
First are my Three Wise Monkeys.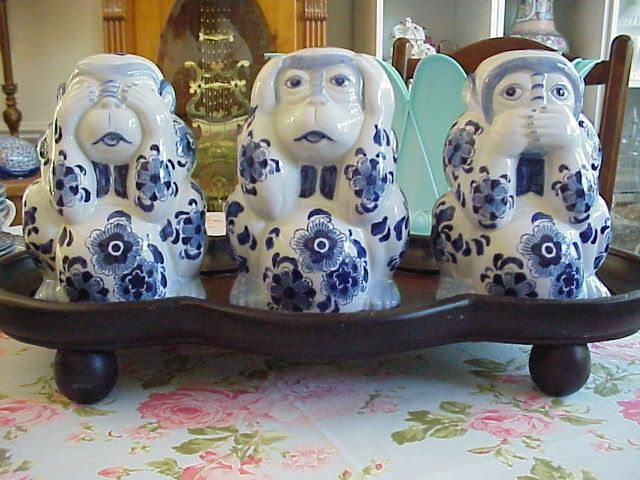 I first picked up two of them at Ross ($3.99 each) when I lived in Texas a few years back. I search all over the store for the third, but they only had the two. So, not really knowing why, I bought them. All the while I wished I had the third. As fate would have it, I went back a couple of weeks later and there was the third one(also $3.99). I was shocked, it was the exact one I needed. No other ones around, just that one. About a year later, after I moved back to the SF bay area, I went to the nearby Ross store and came across the stand ($2.99) which I knew would suit them perfectly!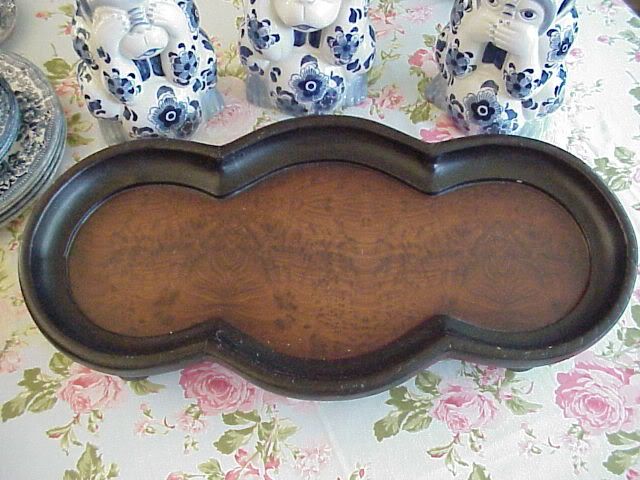 Last wednesday, I went to the Salvation Army and picked up a set of blue transferware plates. I paid more than I wanted, but I knew they wouldn't reduce the price for 30 days. Chances of this set lasting that long was highly unlikely.
The dinner plates were 4.99 and the others were 2.99 each, they had four of each. They only had three sets cups and saucers and those were $4.99 a set.
Now some of you may remember this little ceramic vase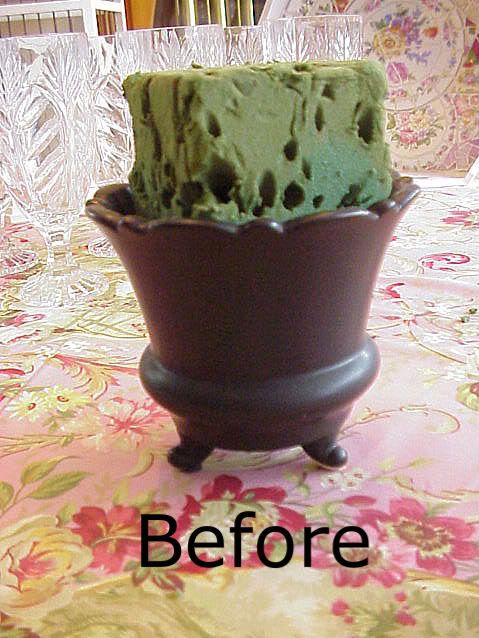 I mentioned that I tried all sorts of colors, aqua, sage, pink, antique white...I promised I would reveal the final color, so here is what I chose...Tah-Dah!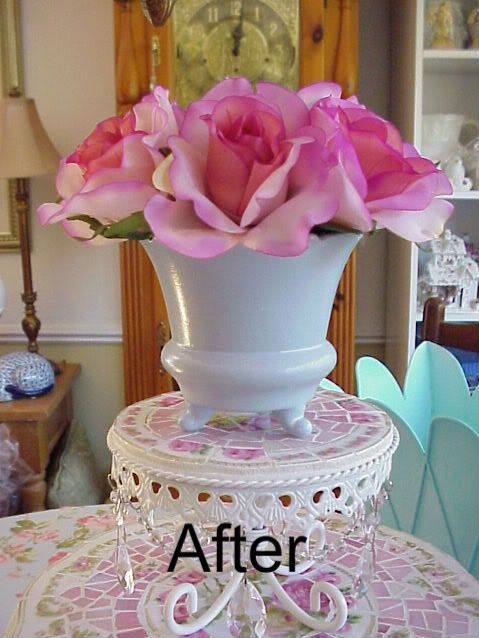 To see
Ceramic Vase Makeover
pop over to my How To page. The inspiration for the color was this pretty metal pitcher I picked up ages ago. I remember it was under $5.00.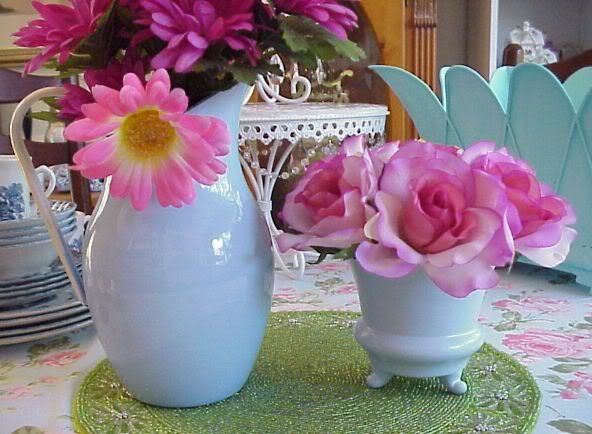 Thanks so much for stopping by and viewing my parties favors!
Be sure to stop by Today's Thrifty Treasures and say hello to Rhoda and view other fabulous finds and also go see SmilinSally's Blue Monday for lots of pretty blues and all the lovely blue contributors blogs!

Enjoy!