I have finally finished the detailed instructions on grouting! Woohoo! I have added it to my How To's page. You can view the How To Grout Your Mosaic Surface
here
.
As always, you can access my How To's by click on the How To's collage located at the top of the left side margin (under the clock), that will take you to the table of contents.
I always stress that it is best to start small. A lazy susan is inexpensive and ideal. You can also try a small wooden tray. Believe me, you will learn much from the experience and be more confident when you tackle your more cherished piece.
I know there is quite a bit of information there. Please do not feel intimitaded by it. Most are helpful hints. Once you get started, you will quickly develop your own methods and practices. It truly is easier in practice than on paper, or in this case...monitor. ha!
My objective in offering this information is to assist you in creating an heirloom piece; one that you will be proud to have made; one that will be cherished and last for many years to come.
At the very least, you will be more aware of what to look for if you are considering purchasing a mosaic piece. As I've said many times before, your hand will be the best judge of quality in the craftsmanship of the piece.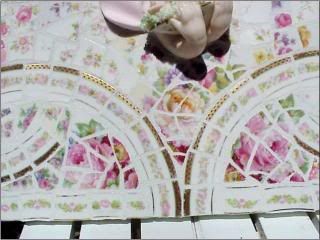 As you glide your hand across the surface of the mosaic, it should feel good to the touch. If it is rough, uneven, jagged or sharp, your hand will let you know instantly.
If there is something I may have overlooked or a topic you would like more information on, please do not hesitate to ask.
Good luck and happy creating!