Today I want to extend my thanks and correct my Tablescape Thursday faux pas. (Moi? faux pas?? It's becoming a signature for me! lol)
First, thank you to the very creative and wonderful Susan at
Between Naps on the Porch
, for being such a fabulous and gracious host of Tablescape Thursday. Bravo!
I also want to thank all the wonderful TT participants for their kind, sweet, and encouraging comments. You are all darlings for taking the time! Each of you made me feel very welcomed and I am truly touched. Hugs to each of you!
Welcome to all the newbies, I'm a newbie too! I hope you had as much fun as I did! I viewed every post and goodness, there are so many very talented and creative participants! "clapping" My eyes bugged out, my jaw dropped, I oh'ed and ahh'ed and laughed out loud. Great fun! I can't wait until the next one!
I wanted to join
Foodie Friday
hosts by Gollum of
Designs by Gollum
(another must see blog!), unfortunately I didn't have enough time to prepare. I do want to set some time aside to see all the wonderful recipes!
Ok, now my Tablescape item descriptions.
The dinner plates are vintage Bavaria Tirschenreuth (I had 6, one broke, another is chipped (sobbing now! lol) so I have four left. The pretty side plates are vintage Thomas Ivory, Thomas Bavaria.
The centerpiece, the base is that darling bowl (no lid) that I picked up at Salvation Army, the porcelain posy is vintage Adderley, one of my favs! Its base is a pretty robin's egg blue with three little footers. too cute! And the little domed cup cake pedestal was from either William Sonoma or Pottery Barn.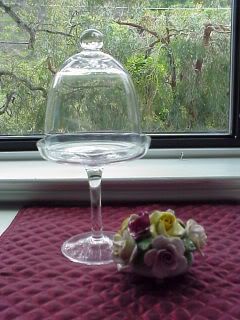 The white birdie napkin holders I bought from ebay and the cute little birdie salt n peppa shakers are another thrift store find (you'll see these again on
Monday's Thrifty Treasures
hosted by the fabulous Rhoda at
Southern Hospitality
The vintage broken china mosaic birdcage, small tray, and cup cake pedestal were all created by me. I am having a hard time listing those on ebay. I am mad about the birdcage, my daughter LOVES the cup cake pedestal and nesting tray (I used the smaller of the two. Thus, having to sell those pieces is really difficult. See, this is why I prefer creating commissioned pieces…no matter how much I love them; they already belong to someone else! lol!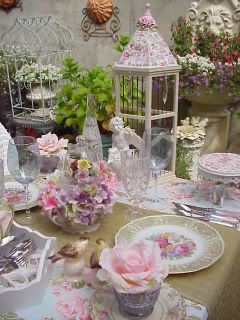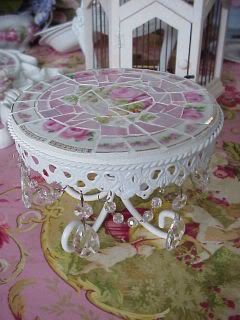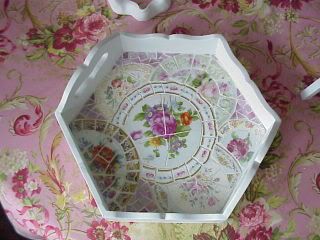 The crystal goblets I you may have seen on my bargain hunt post
The cute white kitty was bugging me the whole time I was taking pics..."meow meow, take my pic, meow meow, I'm such a cutie, all white and oh so shabby chic"
Oh, almost forgot the bottle of water…a humor gift from my sister. It's designer water (which is just so amusing!) It is Evian...the bottle is designed by Christian Lacroix (oh la la!) I must say, it is very pretty and I want to get a white plumey ostrich feather to put in it!
The straw hat was embellished by me and the rest I've had for so long I couldn't honestly say where I got them.
See you at
Beverly's Pink Saturday
blog party!
Have a fabulous weekend!