Welcome everyone! I'm so thrilled you stopped by!
Thank you to Susan at Between Naps on the Porch for hosting this fun weekly event!
Time is flying by! My son is leaving the nest to start his life. He's off to college come fall. I am so excited, hopeful, and very happy for him. Why do they grow so fast? I miss my little one so much, yet so anxious to see the man he will become. (I'm tearing....again!).
Anyway, we don't always have too many opportunities to dine with just each other.
Yesterday, opportunity knocked and I prepared an impromptu summer meal just for the two of us. Tablescape Thursday had nothing to do with it....that's my story and I'm sticking to it! ;)
I originally planned an alfresco meal, but the wind was not cooperating. Without further ado...my plan B.
Lets see, that's forks on the left, spoons and knives on the right....yes?
Yikes! Is it me or does it look like everything in going out the window? Or is that coming in through the window? I need a plan C lol!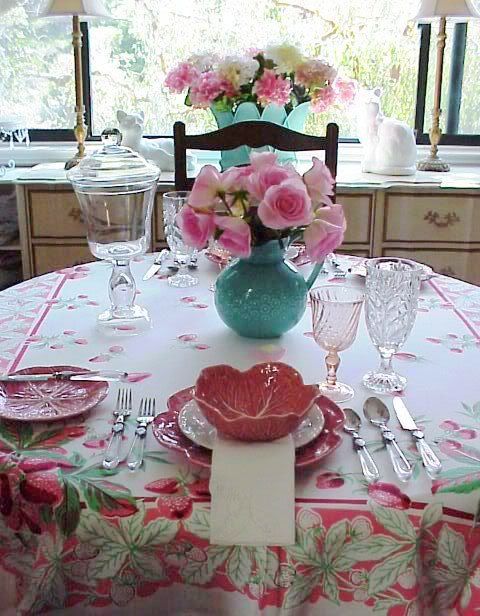 Awww much better...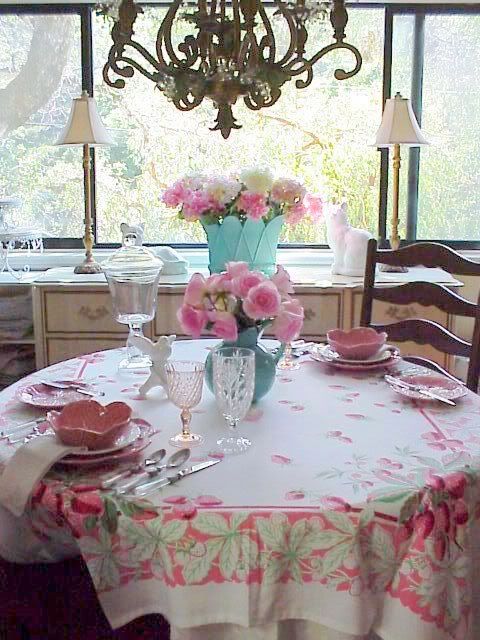 The stainless steel tableware is Cambridge Silversmiths LTD., Cleopatra Clear. I got a 20 piece for $9.99. I've only found the one set though and have been hunting for at least 1 more set. Love how you can see the table cloth thru them. The pink plates and pink bowls are Bordallo Pinherio.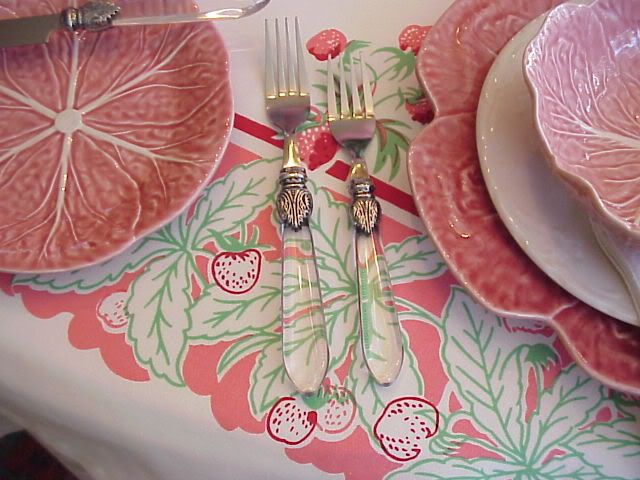 Next is one of my favorite pitchers. It's Pinherio Bordallo too. Ross, $4.99. Love the daises, too cute. Aqua and pink complement each other so beautifully. My beautiful daughter gave me the beautiful pink roses "cuz I wuv you mama...."
The pink crystal stemware is a recent thrift store find; $7.00 for 4. The crystal goblets were another deal, $2.00 each, there were 6.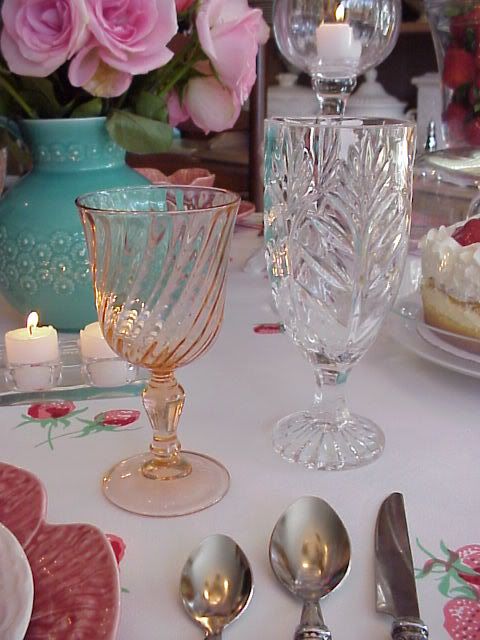 While I'm on the subject of fabulous finds....the metal jardiniere was $2.99. I gave it a shabby aqua makeover. The two porcelain kitty cats were $1.00 each. They were hidious! But I saw potential. Used my can-o-spray paint and *presto* my two staffordshire cats! lol! I still have to paint their noses and the inside of their ears pale pink. If it looks stupid, I'll just get my can-o-spray paint and *presto* blanc de blanc.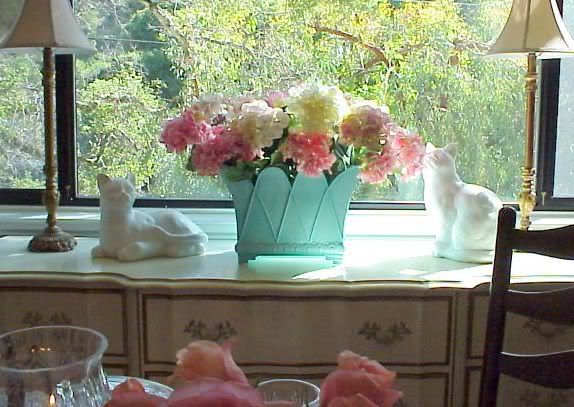 Doesn't the cat on right look as though it is sniffing the hydrangeas? lol
The candle holders all came from Smith & Hawkens, 75% off.
I've had them for a couple of years now so I don't know exactly what I paid. I just remember the 75% off! lol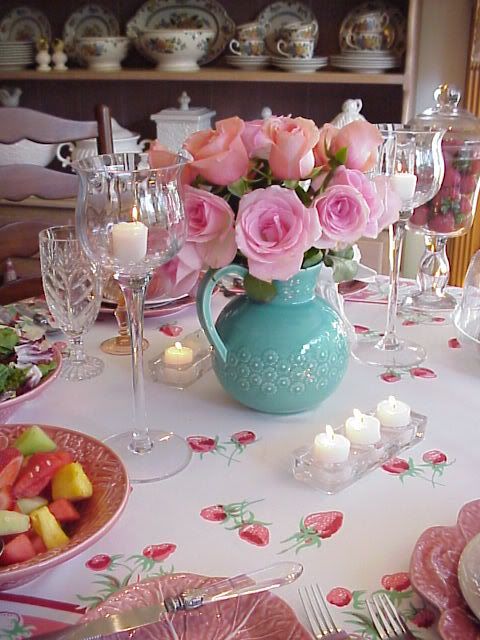 Now, for this evenings summer meal we have a lovely tossed leafy salad......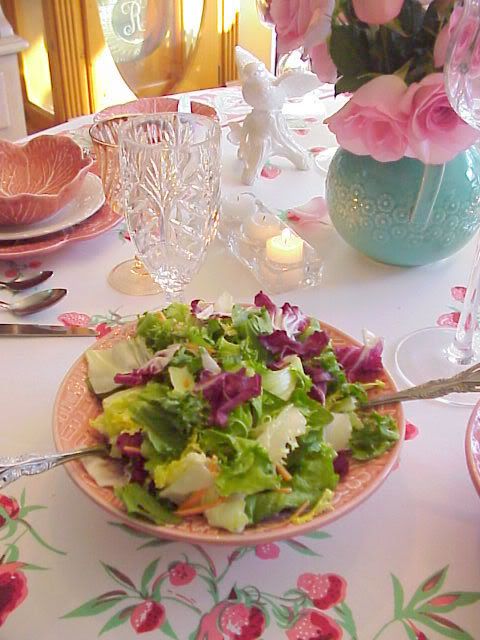 And a summery fruit salad.....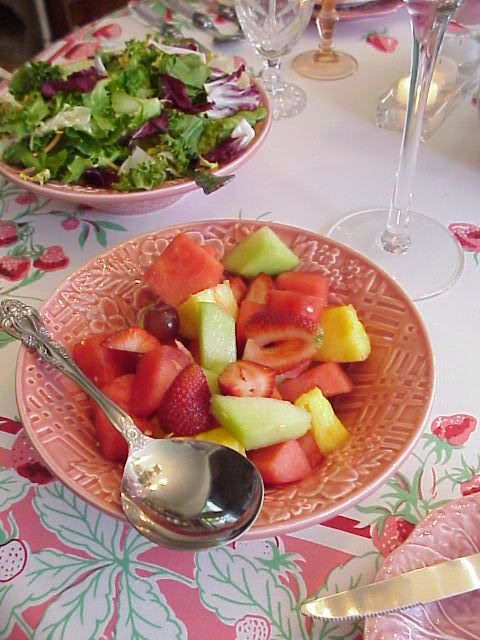 We are being good....yes? Ummm noooo......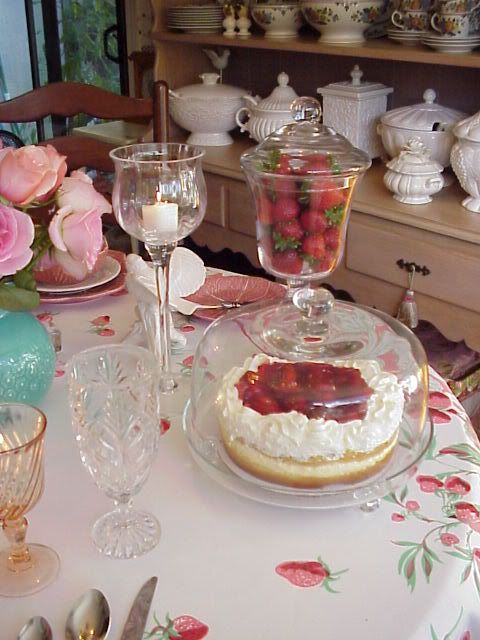 A lovely Strawberry cream filled shortcake. Guaranteed to add 2 pounds per bite! Doesn't that look so scrumptious tough?!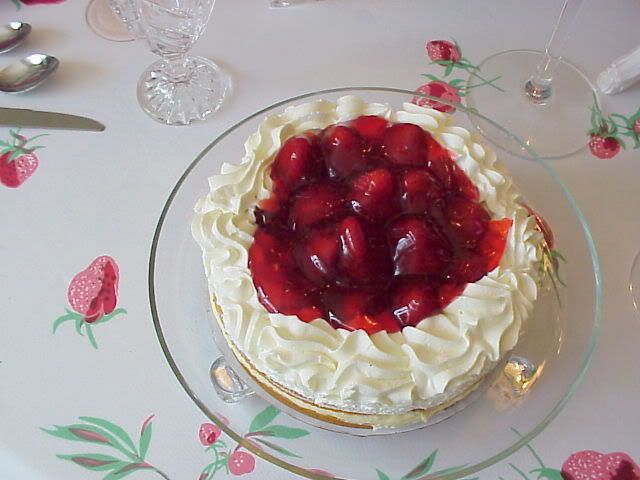 My apothecary jar filled with fresh strawberries!
They are real! Seeeee......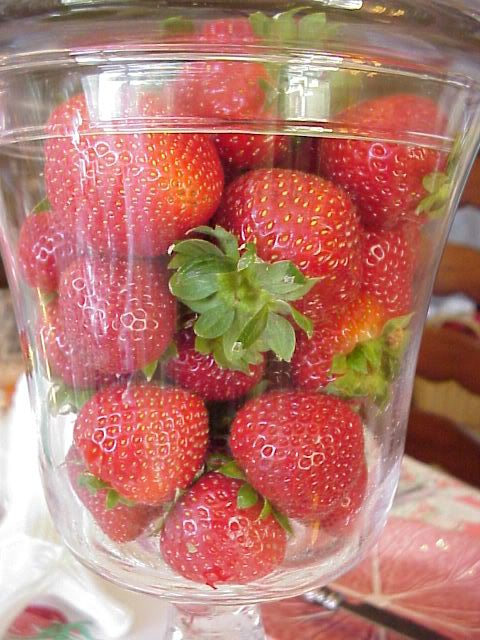 lol! It goes well with the tablecloth....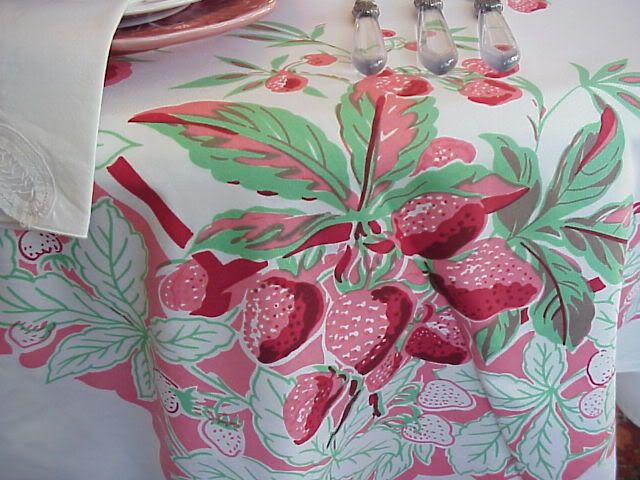 My view.....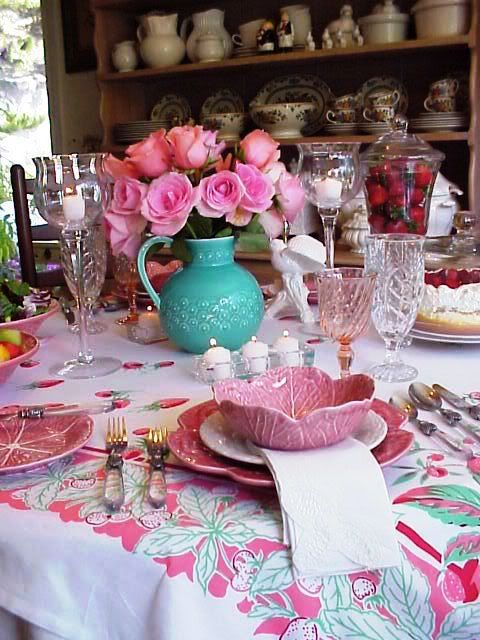 his view.......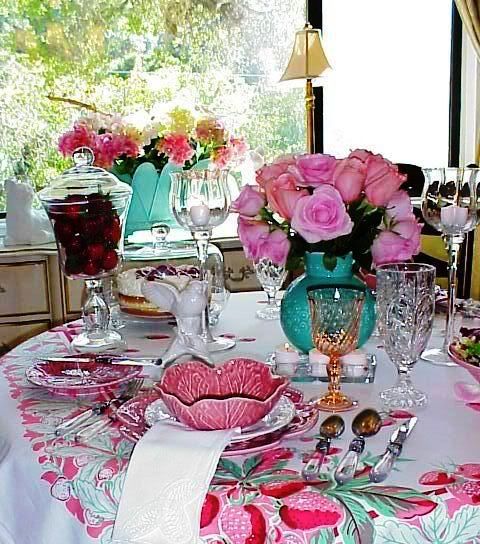 followed by my "Not quite a birdeye's view" The dang chandy kept clunking me on the head and almost knocked the camera outta my hands! I was lucky to come away with this shot! lol
I'm trying to decide if I want the fruit or the vegies first.....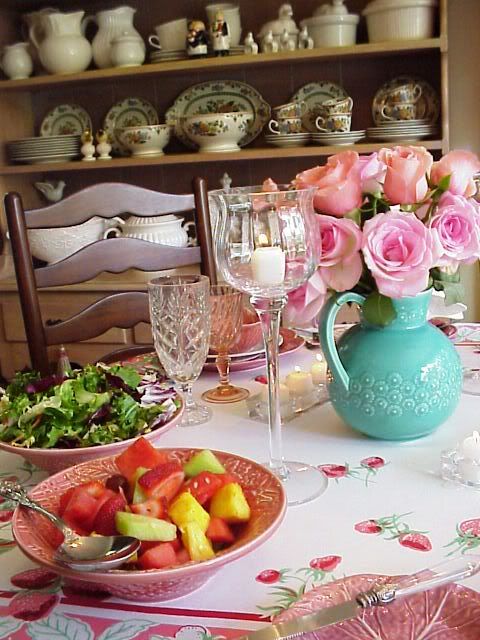 I know what my son will be eyeballing.....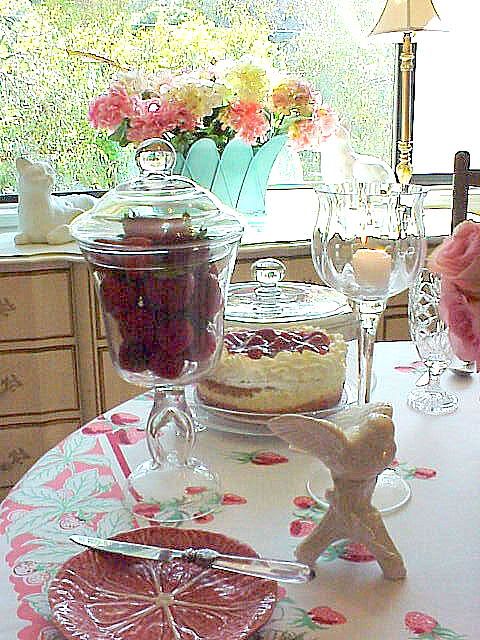 One upside to living on a hill is that I feel like I'm living in a tree house....or in my case, birdhouse lol......
Ok, last look then ya gots ta go....my son is coming down to join me and I've got to hide the camera!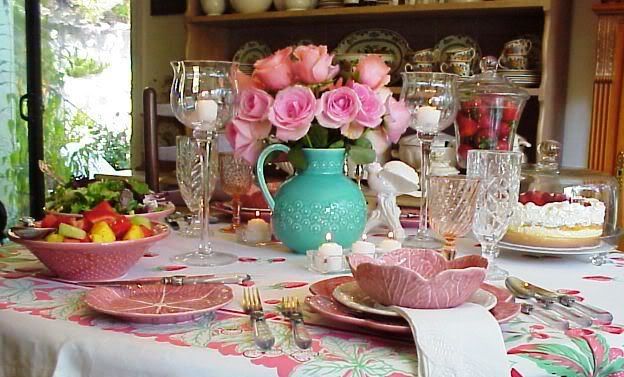 Thank you for stopping by! I hope you enjoyed your visit!
Be sure to see the many fabulous tablescapes created by very talented and clever bloggers!
Back you go to Susan's Tablescape Thursday !
Enjoy!