Ok, Mr. Linky lead me down the wrong path. He said party "today", which is Sunday, but in fact the party is Monday. So now I feel like a boob; I apologized to Rhoda for being late, turns out I'm far too early lol! Rhoda, please pardon my faux pas!
Welcome to all you party people! We are showing off our fabulous finds!
Love Salvation Army! I can hardly believe that I got it all for just $25.00! I had no idea they were having a 65% off sale until I was checking out. I wanted to go back and look some more!
It doesn't show in the pics but that large pitcher is so dirty! I hope it cleans up nice.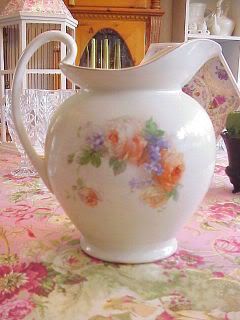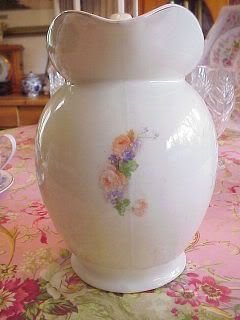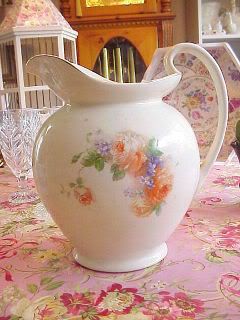 I love that the peach roses are on both sides as well as the front! The little duckie is so cute, I got it to go along with a larger one I found on an earlier thrift store hunt.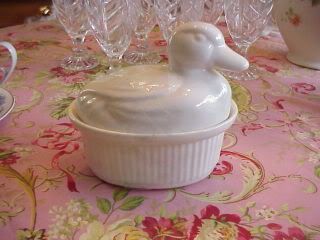 The bowl with the roses, no lid, but will make for a great base for a floral arrangement! The set of six glasses are tall, thick and heavy. They don't look like they were ever used, some still had their stickers on the bottom, 24% lead crystal. I gave them the ole clink on the rim, there was a ring instead of a dull clunk.

I will be using the plate on one of my projects. I want to mosaic a tray (or table top) in blue and white, and I need more pretty blue floral focals.
The little black vase is screaming out for a makeover! I love the scalloped rim and the three little footers.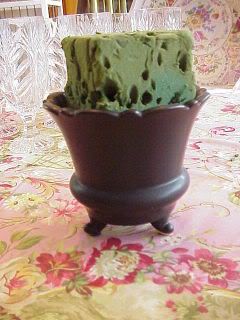 I'm seeing roses, lots of pink roses (what else!), but what color to paint it…White? Aqua? Sage? Tiffany Blue? I have some beautiful decals I have been wanting to use. Whatever I finally decide to do…I'll post the before and after. Now, promise you'll keep this just between us....if it comes out as gorgeous as I hope, it will be a future giveaway...good idea?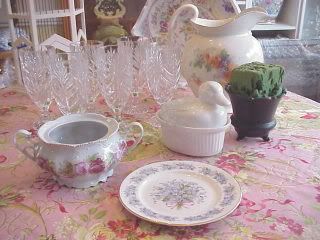 That's all the party favors for today! Your comment is not manadtory but greatly appreciated! Thank you for stopping by! This is a link back to
Southern Hospitality
A big thank you to Rhoda for hosting this fun party!