Time to reveal how I transformed the peacock. *drumroll*
Tahhh Dahhh

I am thoroughly thrilled with how it turned out. Instead of laboring for hours applying little sheets silver leaf, it took only a few minutes to spray paint!
For those of you who know me, chances are I would have silver leaf'ed it. But I thought I'd give it a chance and spray paint it; if the spray turned out yucky, I probably would have silver leaf'ed it!
I don't doubt it is becuse of all the detail of the peacock that it turned out so well.
If it were completely smooth it probably wouldn't look like silver leaf. I'm just saying! ha!
Thanks again to everyone who participated in my poll. We all learned something for sure! ;) *big hugs*
While we are on the subject of painted things....
I am completely obsessed with Somerset Bay's furnishing! I first learned of Someset Bay Home while visiting the inspiring blog by the fabulous
Kate @ Centsational Girl
. (So sorry Kate, I couldn't find that particular post to put in a direct link!)
If you aren't familar with Somerset Bay Home, you so must check out their website! I drool all over my keyboard each time I visit!!
How stunning is this Monterey Bureau Bookcase in Vanilla Bean?!!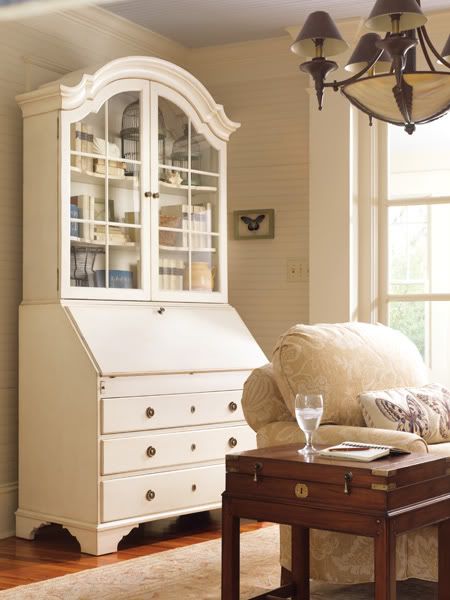 or this fabulous Lake Norman Breakfront painted in Truffle with Vanilla Bean interior! (don't you just love the names of their paint colors?!)...
Now this one is called Little Washington Dresser in Creme Brulee; I wonder if that was an error because it's definitely what I'd call a sideboard with hutch...
I so want the Martha's Vineyard chest in their Cotton Candy for my bedside chest!
or would be perfectly happy with the Harker's Island Serpertine chest in cotton candy...
how gorgeous is this Camden Display Case in their Key Lime Pie with Vanilla Bean interior?!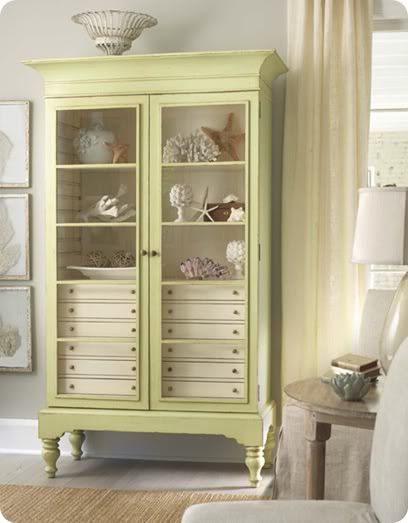 and look at this charming little drop leaf table they call the Moorehead Flip Top in Jelly Bean Green...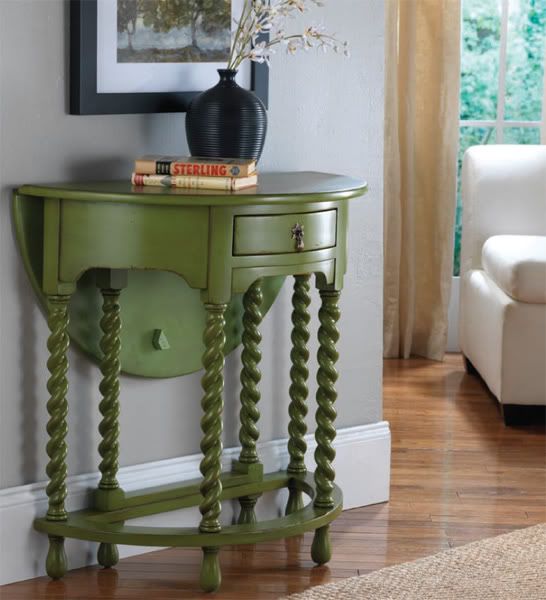 and who wouldn't love this Pinehurst Double Bench in Creme Brulee at the foot of their bed?!...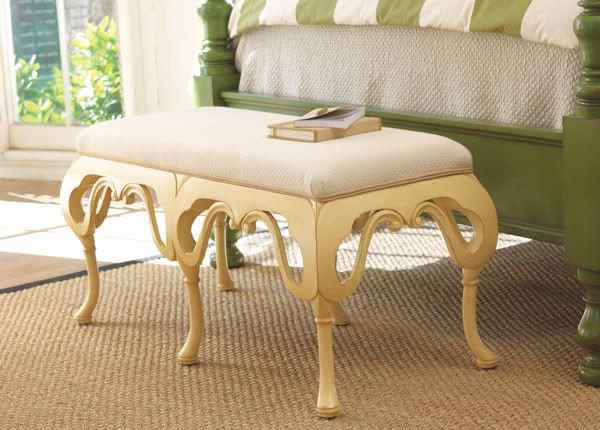 *sighing and drooling*
ha!
Well, one day I was surfing on craigslist and lookie lookie what I found!
Sorry about the blurry photo, it's the only one I have so far where the pieces are together!
Far from a Somerset Bay original,
BUT
...it has the nice cutout detail trim along the top and bottom, plus the two cubboard doors. It's got potential...yes?!
It's been sitting in the garage and I will probably get it going in the spring. I promise to keep you posted!
In the meantime, cover your keyboard with plastic and go visit Somerset Bay's site for more amazing pieces
here
!
Photo Credit: Someset Bay Home.
DISCLAIMER:
This is not a paid advertising nor am I being compensated in any way for posting about Somerset Bay Home!
Cheers!