A
s a newbie to Blogland, I'm still stumbling around trying to acquaint myself.

I really don't know anyone who blogs, so I have no point of reference or anyone to show me the ropes.

Last Friday morning I stumbled upon Beverly's Blog Party.

I scrambled to get something together and joined in the fun.
First, a big thank you to Beverly from How Sweet the Sound who is a fabulous host!

Beverly's Pink Saturday

was my first Blog Party!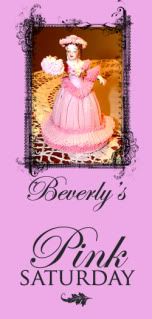 There were so many lovely participants and I managed to get to all but 2 or 3, only because I couldn't get their blog page to come up. I have to tell you, there are some really witty people out there in blogland. I also came across many very talented artist and crafters. There are many blogs I want to revisit so I can spend more time on their posts.
My next shout out is to Rhoda from

Southern Hospitality

who is another fabulous host!

She is the host of

Today's Thrifty Treasures

every Monday.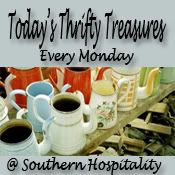 It was so much fun to see all the incredible deals everyone found! The participants are lovely and some even show how they repurposed their find!

The next party I want to participate in is Tablescape Thursday. It is hosted by Susan of Between Naps on the Porch.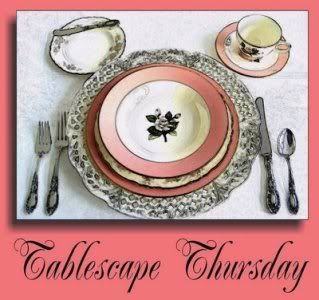 I will have to get creative since most my most favorite china, stemware and silver is still packed up, I'll have to fancy up my everyday things. Hopefully it will turn out nice.
I've set up a Blog Party list in my right margin. I will add to this list as I come across them. If you are interested in participating or just pop around and "test the waters", click on the banner (image) and it will take you to the what-when-how for their party. Do try and join in!
Last, I want to thank all the lovely people who took time to comment on my Party offerings. I really do appreciate hearing from you!
Thank you again everyone *hugs* all around!
Enjoy!