In addition to collecting white teapots (particularly with little birdies on the lids), I love white soup tureens. But I'm picky, I want the matching lid and ladle and all at a bargain price! Well I found one over the weekend in a thrift store for....I still can't believe this...$8.99. It no hallmark, very thick and sturdy, came with lid and ladle! This one is a keeper!
I also came across a few other things.
Picked up this darling white duck medium size casserole for $6.99, no hallmark, very thick and heavy!
and I found this darling pretty in aqua and pink figuriene, she was the same price as the first soup tureen at $8.99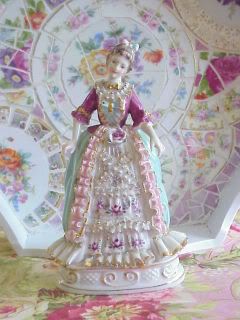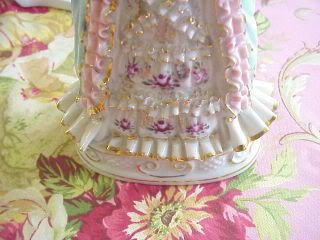 She has a mark on the bottom, but I don't recognize it, it looks like two sabers crossed. If anyone out there knows the mark, I'd be grateful to know who made this.
Last friday I found a beverage jar at Costco, it cost $25.99. I know, seem like a bit much, but I broke mine long time ago I've been looking for a replacement for ages, and I really liked the shape of this one.
It holds 3 gallons (half gal more than my old one), has a gasket ring/seal under the lid, it said on the box it has a brass spigot, but it's coated in that cheesy silver. Another thing about it I like is the box indicated that it's made out of recycled glass! Of course I love the shape, so it's a keeper despite the flaws.
Now this next soup toureen I came across in either TJ Maxx or Marshalls a while back, and I could not resist it.
I paid only 9.99 for it. I love it's quirkiness and the detail. Underneath it is hallmarked handmade in Portugal. The best part of it was the fish ladle
I thought it would great at my beach house (just dreaming now). Hey, if you build it, it will come...yes? lol
Now, if anyone out there recognizes the mark on the bottom of that figuriene, please let me know!
Don't forget to check out my How To blog (topic list are at the top of the left margin)!

Happy hunting everyone!