I decided to do something a little different for Tablescape Thursday. First a big thank you to Susan at Between Naps on the Porch for hosting this fun weekly event!
In my first
Tablescape Thursday
post, I received loads of compliments and inquiries on how I did my centerpiece.

This is very simple and has a great impact. Truth be told, I threw this together in 5 minutes. It is very easy and you can use whatever you have available.


Here are a couple of photos of the original that I used in my tablescape...


First, gather the items you will need.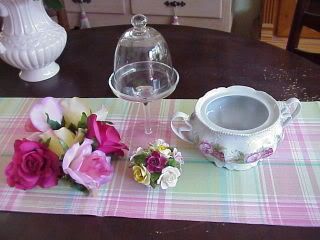 Any bowl, pot, or container will do, as long as the base of the pedestal fits and sit well in it. You can also use a tray, platter, or plate, but these will take up more surface space on your table. That is why I like to elevate the arrangment.


A glass covered dessert pedestal (the base need not be glass, chances are it won't show)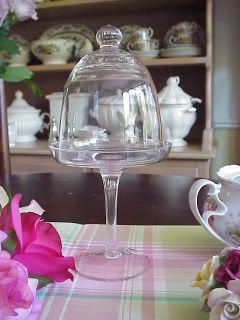 The vintage Adderley Rose Posy (you can put anything under the glass as long as it will fit and doesn't look smushed!)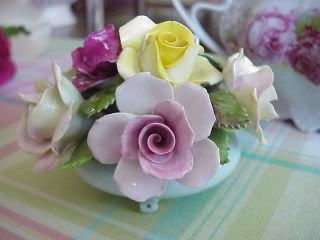 For this project, I'm using faux roses.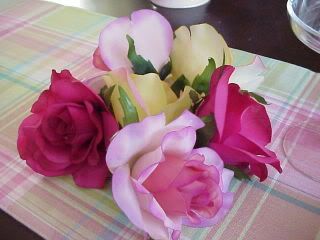 I almost forgot, I use tissue to give the dessert pedestal a level surface inside the container. It's easy to adjust. You can also use styrofoam if you need to raise the pedestal a bit.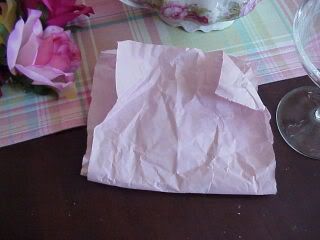 Insert the pedestal into the base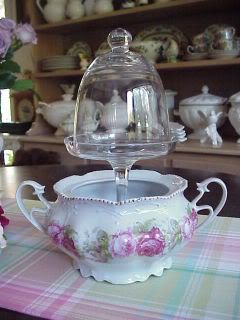 Place the posy onto the pedestal, make sure it is secure


Arrange the flowers all around the the top of the container


Voila! Your centerpiece is done!


Birdseye view


Simple and Sweet!


You are only limited by what will fit between the base and the pedestal. You can use faux or live flowers, vegetables, greenery, or fabric.

If you have any questions or have suggestions, please feel free to leave a comment to share.
Thank you to Susan of Between Naps on The Porch for hosting this fun weekly event! She's the best!
I'll be around to see all the beautiful tablescapes posted by the talented and clever participants! You can too..just click here!

Hugs,