Happy Pink Saturday everyone! Thank you so much to our fabulous Beverly of How Sweet the Sound for hosting!


If you haven't already, be sure to pop over to Beverly's blog, say hello, then visit the other participants to view their pink party favors! I've put a link after my party favor; of course I want you to see mine first! ;-)


Ok, those of you who are getting to know me, it goes without saying that I can be a bit of a boob sometimes...I openly admit to that. But, sometimes I am spot on. Well, this ain't one of those times. lol!
When I was trying to do the garage sale thingy one day, I took a right instead of a left (no big surprise there), long story shorter, I came across this adorably quaint little neighborhood, tree lined streets and several pink stucco homes. Did I have my camera with me? Of course not you silly!
But, I went back there...well, I tried to get back there. Couln't find it. So, you'll have to make due with what I have to offer. I promise there will be pink! Some very pretty pink! Just not every shot. But I think you'll likey anyway.
I present a quaint neighborhood in Burlingame, CA.
First, we start with..PINK! This was the ONLY one that had actual pink pink not pinky peach!
You can't see through the foliage, but the porch and door trim are pink as well. I was a bit disappointed that the door wasn't pink as well. However they made up for it because just to the right....this is growing......
It's full of pinks, lavenders, white. Don't you just want to sneak over and cut a bunch for your vase! I know what you are thinking, I was tempted, but I didn't. Did I mention the big dog barking in the side yard?
Next....this one is pinky peachy color, BUT look at the aqua trim! (I'm a sucker for pink & aqua!)
Even the door is aqua! Bravo! lol (it's the little things in life....yes?). Maybe it's a work in progress. Enough said! Now, I promised you tree lined streets....get a gander at this!
Isn't that so pretty. Was a fairly warm day, about 85 degrees, but on this pretty street the temperature was 70 degrees! This area is full of tree lined streets. This one is around the corner....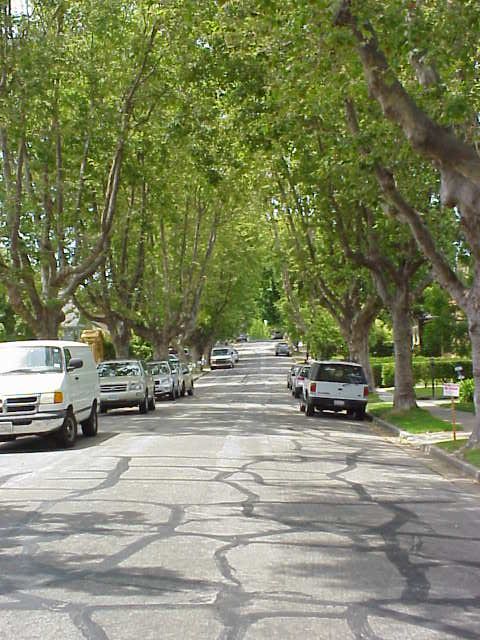 See the patched up street...earthquakes. No, I honestly don't know, maybe earthquakes, or cheap asphalt, bad workmanship. Let's move on to this beautiful ivy cottage!
Isn't that just lovely!? And there are some pink flowers in the front behind the hedge. Now, just a few doors down, there sits this lovely.....
There is some pink, on the roof tiles and the flowers. I just love this mediterranean style house, great details! Did you notice the balcony over the garage door? And just look at that cathedral shaped window...so fabulous, see the chimney cap. This is a decent size house. Here's a side view, notice the 2nd floor and see how far back this house goes...
Me casa su casa...no? Next, just a couple doors down I've dubbed this the hobbit house....
Isn't it so charming? So much detail, the brick walk and brick foundation, the leaded glass windows, the turret entry, the little rooster weathervane, the fence, the chimney cap and there are pink flowers off to the right!
This next one is such a darling cottage! It's yellow, but check out the mailbox and the street lamp behind the white picket fence....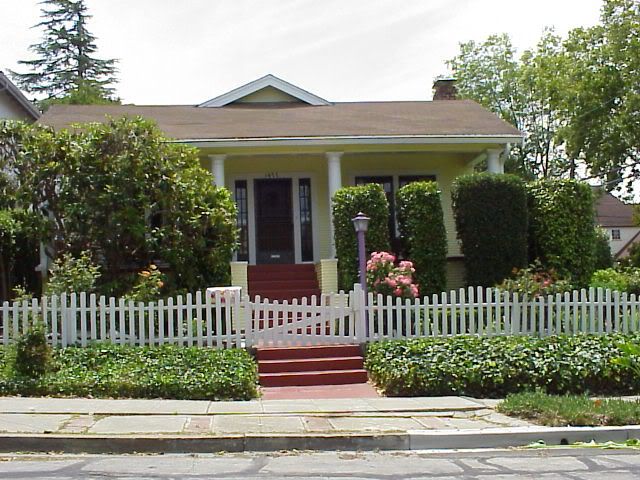 Isn't the white picket fence darling? The mail box has these large yellow, pink and lavender daisies all over it! Here's a closer view....
Someone didn't square the gate...oopsy. This is a corner house, look what they did for the side gate.....
So cute! Looks like it should be set out in the country, but us Californians want our cake and eat it too! lol just kidding.
This last house, you really can't see much of it because it is covered by lots of pretties, particularly this pretty.....
That bougainvillea is so beautiful! See the blue trim, too cute! Here's the front door....
The little bunny cracks me up. I don't know if it's meant as a welcome or as a deterrent. oops did I type that out loud? I love the pale pink rose bush (looks white from the sun)! Blue trim on the door as well....ok, here's the full view of the front....
Ok, last pink...this house was just the average style, but the bougainvillea is so florcent....
See told you I had some pinks, nanner nanner. Now before you go, just have to share this with you! You have to read this before the last photo!
There was this pretty house, such a beautiful front yard. I took a shot from the car, then got out to get pics of the rose bushes, just as I'm about to take a shot, a tiny little old asian man that could barely speak english came "old man trotting" toward me waving his garden spade and yelling, "YOU NO DO! NO DO! YOU BAD! BAD" I tried to explain..."I no bad, I'm a blogger, I won't show your address, no Sir, I am not looking to cut your bushes...". At that point, jumping in my car and speeding off made more sense! So here's the photo I got before he chased me away!
I'm still laughing! The photo doesn't really show how beautiful the front garden is. I love how (he) filled the sidewalk with Agapanthus. Homeowners are responsible for the sidewalks in front of their homes.
Well I hope you enjoyed the eye candy and had a giggle here and there.
Thanks so much for visiting me! I'm off to see more lovely pinks!
Back to Beverly's
Pink Saturday Party
.
Enjoy your weekend!