Welcome to my first Outdoor Wednesday! Thank you so much to our gracious and thoughtful host, Susan of A Southern Daydreamer !

If you haven't already, be sure to visit Susans lovely blog, say hello, then visit the other participants to view their outdoor adventures! I've put a link after my party favor; of course I want you to see mine first! ;-)

Some of the homes you will be tour is from Pink Saturday. It was suggested that I post a few for Outdoor Wednesday. Since I already have the photos, I thought I'd give it a go.
Today we have have a mini-tour of quaint neighborhood in Burlingame, CA.
Burlingame, California is located approximately 15 minutes south of San Francisco. It is part of the area known as the Peninsula. The Peninsula is coveted for it's close proximity to SF and the airport (no bridges to cross). It is nestled between the San Francisco Bay and the Pacific Ocean. Downtown Burlingame is known for it's upscale dining and boutiques; a place to see and be seen; I'll give you a tour of it's downtown area in the near future.
The prices in this neighborhood are mid-range; varying from $750,000 up to $1.3 mil. The different styles of the homes you will see are fairly typical in this neighborhood.
We begin our tour through this tree lined stree; typical for this neighborhood.
Isn't that so pretty. Was a fairly warm day, about 85 degrees, but on this pretty street the temperature was 70 degrees!
This next house is my favorite! I could spend the rest of my days there!
I just love an ivy covered cottage! Isn't that just lovely!? *sigh* I couldn't get any side photos because of the trees.
Now, just a few doors down, there sits this lovely home.....
a mediterranean style house, lots of great details! Did you notice the flagstone steps iron railing? There is a balcony over the garage door. Too bad they didn't match the railings. But that can be very pricey. Fabulous cathedral shaped window, and I love the little entry window next to it. Great chimney cap. This is a decent size house. Here's a side view, notice the 2nd floor and see how far back this house goes...
Me casa su casa...si?
Next, just a couple doors down I've dubbed this the hobbit house....
Isn't it so charming? So much detail, the brick walk and brick foundation, the leaded glass windows, the turret entry, the little rooster weathervane, the little cottage shaped mailbox, the fence, the chimney cap, so adorable!
This next one is such a darling yellow cottage! Notice the touch of whimsy on the mailbox and the street lamp behind the darling white picket fence....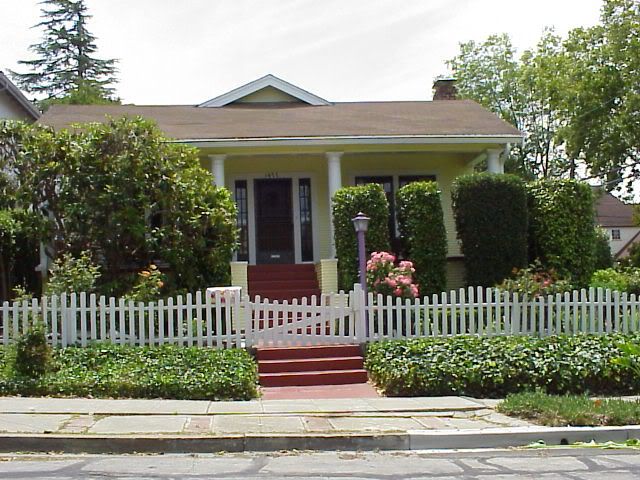 The mail box has these large yellow, pink and lavender daisies all over it! Here's a closer view....
This is a corner house, so I got a photo of the side gate.....
Too charming! Looks as though we are way out in the wine country, yet we are in the burbs and only a few minutes from SF.
This last cottage is difficult to see as it was covered in foiliage, particularly this pretty...
Love how the bougainvillea curves around the arch of the window. The house is a pale yellow textured stucco with blue trim! Here's the front door....
and now, a full view of the front....
We now exit though another lovey tree lined street....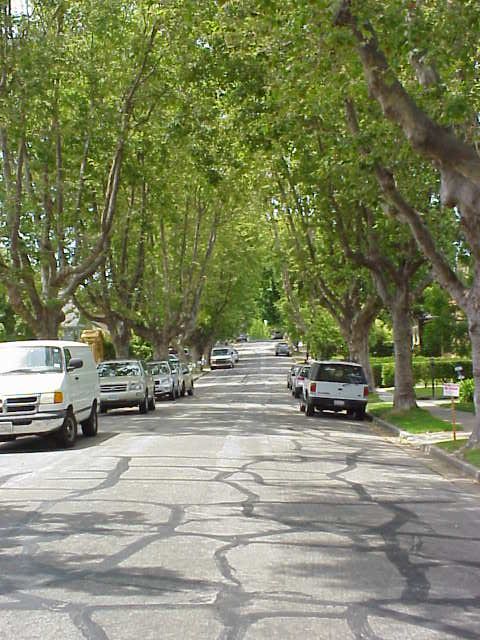 I hope you enjoyed my first installment of Outdoor Wednesday!
Thanks so much for visiting me! I'm off to visit more outdoor adventures posted by the other participants! Be sure to pop back to Susan's Outdoor Wednesday.
Enjoy your week!