Good morning, Pinkettes & savvy bargin hunters! Today I thought it would be fun to share how I spend most (Pink) Saturday mornings with you.
I hop out of bed, (yep, I hop, I'm a morning person) ha!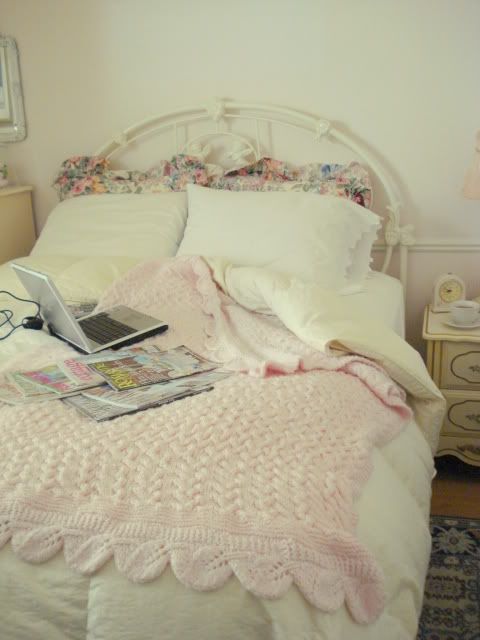 ...fire up my comp and toss my favorite mags on my bed (isn't it funny how they landed that way, you can actually see which ones they are ha!)




...get a piping hot cup of java...it's chilly this morning! brrrr...




...and pop back into bed. I'm all snuggly buggly and ready for the pink Saturday madness!




Some of you may remember my pretty pink blankie my mama knit for me! It's so thick and warm!


Golly, where is my manners! Would you like a thrifty tour?
Let's begin with my bedside table. The lamp is a Marshalls find, under $20.00 including the pink silk shade with lacey overlay! I'm sure some of you bargin hunters have seen this little electric clock in various thrift stores and vintage sales. I've had since I was 19 yrs old...yep only a few years ago *cough*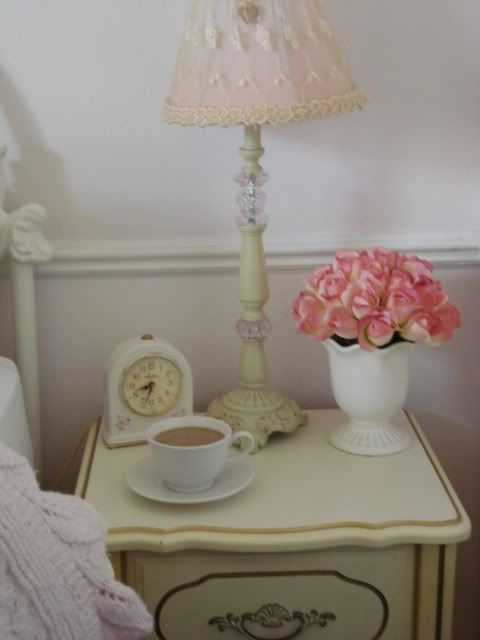 The tea cup & saucer is part of a 5-piece service for 8, plus covered butter dish, lided sugar bow, creamer S&P and large serving bowl..which was broken so it was in the Last chance isle in Ross $16.00. The white urn with faux roses make me smile, found it in a darling little shop near Denton, TX, $9.99.
The bedside table was origially in my daughter's bedroom, then I moved them into my mother/guest room. Speaking of bargin hunting, I've been hunting for a bedside that is at least 3" taller, this one is way too low and my bed is very high. I kept my original bombay style bed side tables, they are in the garage, unfortunately they too wide for this space, so this one will have to suffice for now. Ooop, sorry, I digress.
Onto the other side of the bed. On top of the chiffonier (a match to the end table) are some of my English porcelain rosy posies, ebay auction wins ($9.99 - $24.99); the cloche is a Marshalls find, $5.99. A PB cup cake pedestal 50% off, think it was $6 or $7.
The little sage green display case (Ross I think, $7.99) it houses some cherished gifts from loved ones. The cherub mirror was a Hobby Lobby find when I lived in Texas. It was originally a very gaudy gold! I shabbified it. Paid around $30.00 for it, it was marked down from $49.99.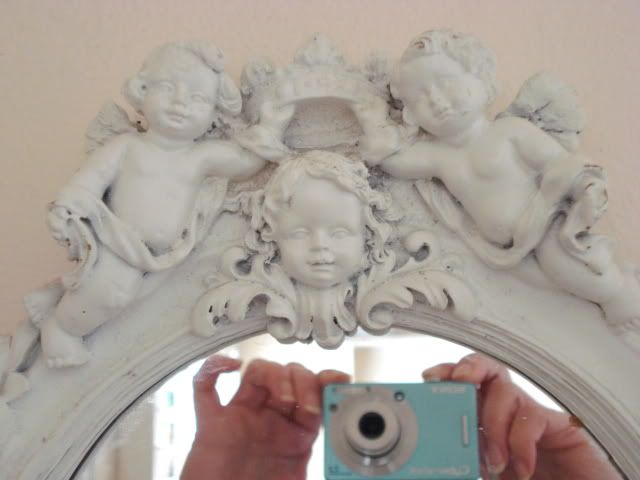 See my little Sony Cyber-shot in the reflection? A gift from my SIL & daughter. She couldn't find one in pink, but the blue is pretty too. This is what it wants to be when it grows up...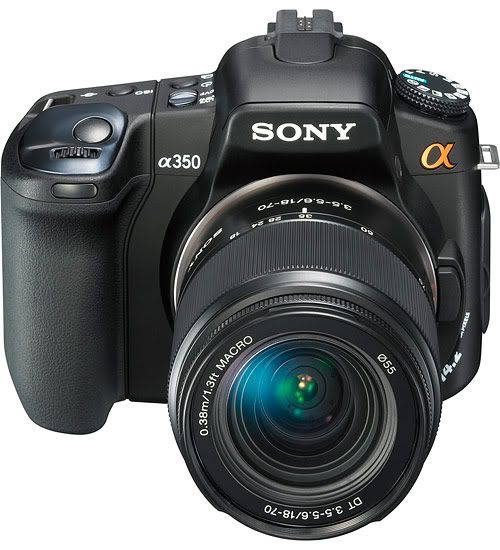 dreamer, LOL!
Finally, we arrive at a close up of my cherub headboard. This was originally in my mothers/guest room too. I bought it back in the late 80's. Paid more for it than I care to admit ($350.00) ha! Bought it in some snooty furniture "boutique" in LA, nuff said.
My sleigh head and footboards are too large for this space, so they keep the bombay side tables company in the garage.
Now for a bit of shameless promotion. What can I say, I'm not immune. I am thrilled at how pretty these came out. You really can't go wrong with the lovely vintage French, English and Bavarian china.
Please note: no china plates were harmed in the proccess of creating the mosaics. They were all broken from natural clumsiness. ha!
I am a bit discouraged as no one has bought them yet. :( Or should I have said in an up beat and cheery sales pitch sort of way...They are available in my Etsy! ha! ;)
Ok, back to what's
REALLY
important...favorite zines...
....fresh coffee (Pete's Espresso Forte)....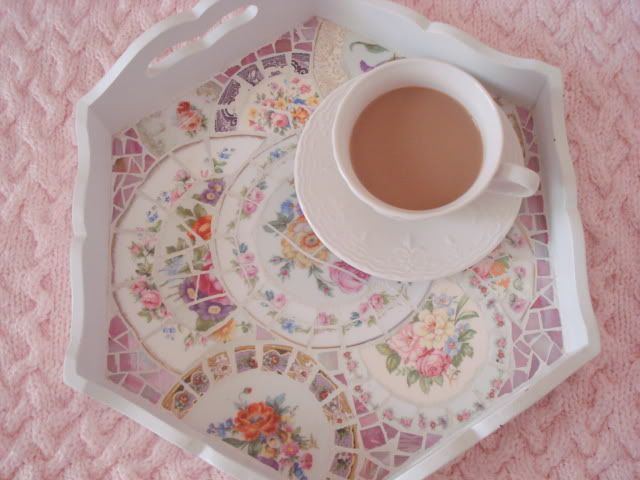 ...and most importantly.....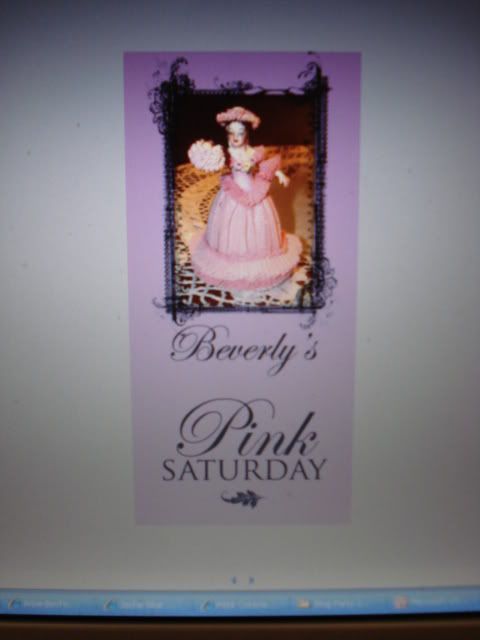 A girl has gots ta have her weekly pink fix!
Thanks so much for spending a (Pink) Saturday morning with me and looking at few of my thrify finds! Hope you enjoyed your visit!
I'm linking up with:
Our fabulous Beverly of
How Sweet the Sound
for
Pink Saturday
! Thanks so much for all your hard work, Beverly!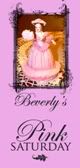 Cheers!