Happy Pink Saturday everyone! Thank you so much to our wonderful Beverly of
How Sweet the Sound
for hosting!
I hope everyone is having a lovely pink Saturday!
I have been running about trying to accomplish several things at once. Not too successfully ha! Seems as fast as I go, time is faster. I'm definitely having a white rabbit Saturday! I'm late, I'm late, for my very important pink date....
I'm sure you fellow pinks recall this from last Saturday....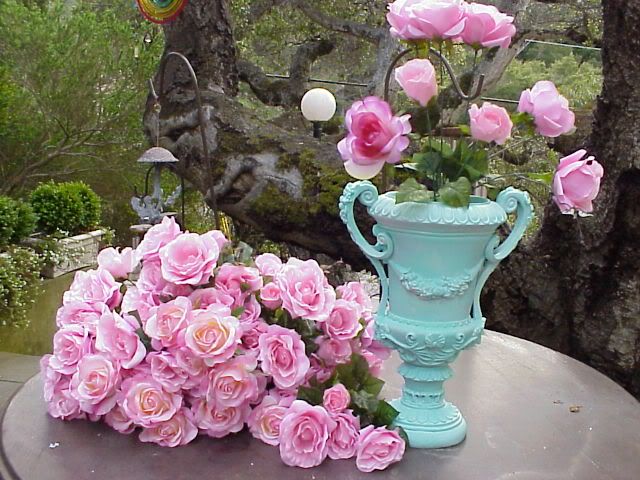 THE HOW TO AQUA TREATMENT
tutorial is available
here
at my How To page.
Here is it filled with loads and loads of pink (faux) roses...
You know my motto, go faux, go big!
I had a few pink roses left over and added a few pink hydrangeas, pulled out another one of my favorite urns and...voila!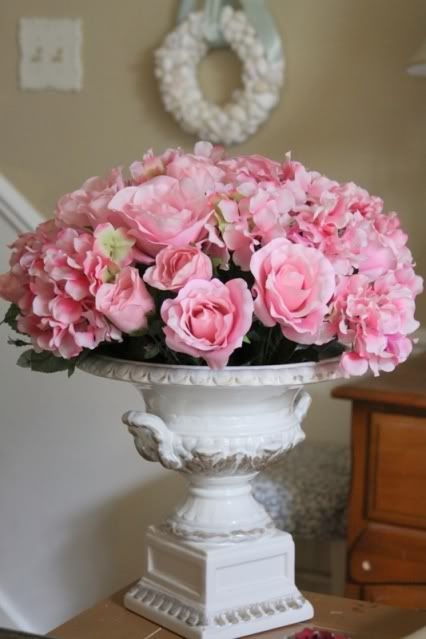 You recall my Michaels steal of a deal vase that I filled with pink cherry blossoms, it normally hangs in front of the large window in my dining room.
Since all the light is behind it, it doesn't show well in photos, see...
Side note:
My blanc de blanc staffordshire like cats flanking the arrangement were given a lite sanding, one coat of Kilz primer/sealer (spray can), two coats of American Standard Blossom White (spray can) and a high gloss finish (spray can).
I put the cherry blossoms over here for a better photo....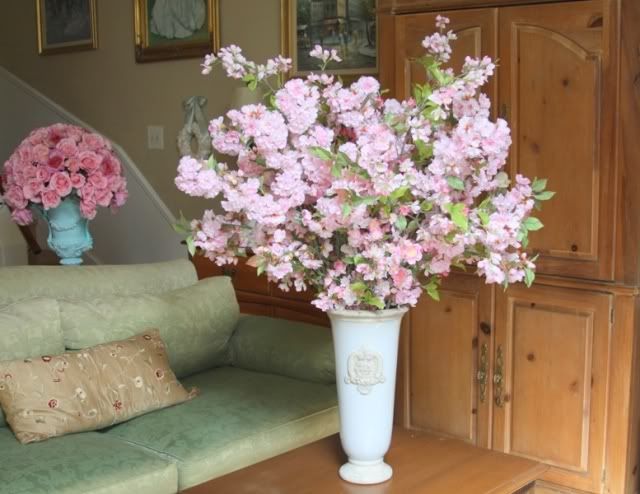 See my little living room, I'm dying to paint that knotty pine armoire french blue and get a slip cover for the sofa....but that's another post!
Now, I came across another blogger who has an absolutely darling blog. She is Sandy Foster of
My Shabby Streamside Studio
.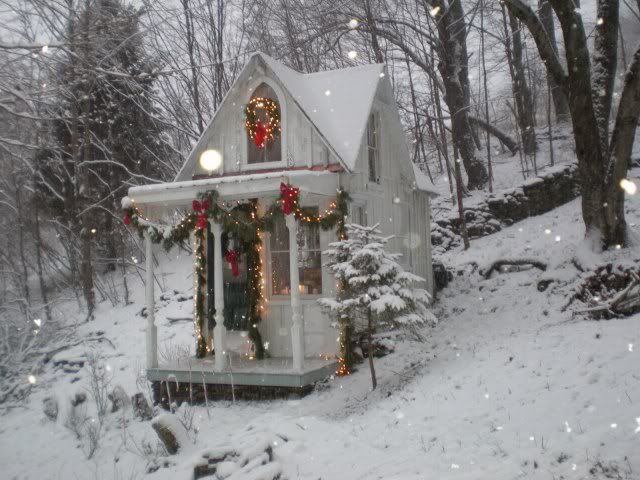 Photo Courtesy of My Shabby Streamside Studio
Isn't her studio fabulous?! Wait until you see her blog! You definitely should pay a visit and have a look around. Her blog is so very pinkalicious! Be sure to say hello for me if you will. ;)
Ok you pink darlings, I'm dashing off....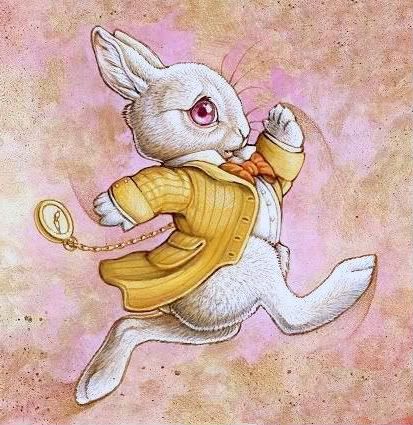 .....to visit fabulous pink participants and their beautiful pinks for
Beverly's Pink Saturday
!
Thanks so much for spending some time with me! I hope you enjoyed your visit!
Cheers!