This next makeover almost didn't happen. When I first saw this, I walked right by it. I immediately dismissed it as it wasn't close to what I wanted. A few steps later the light bulb *lit*
I've seen so many tiered trays, some made with vintage china plates, some in silver, some are wired baskets, I'm sure you've seen some of them. I've never seen one that I've fallen in love with that was in my almost non-existent budget.
So this is what I almost passed up last December....
Gorgeous...no?! NO, well, not yet! ;)
A Christmas present to myself. Price, $19.99. Bonus, it had all the glass beads and crystal drops *happy dance*. Did you notice how dusty the thing was?! Yuck! Fortunately the crystal drops were covered, unfortunately the crystal beads weren't. But for $20, what's a little soap & water...no?
Another drawback, notice that top tier is doing it's best impression of that tower in Pisa...
After I dismantled it, turns out the rod was bent. No worries, I'll go to Home Depot and let them figure it out. Seems you can't straighten them. So I bought a new rod, they cut it to size for me, so I was back in business. I have to mention, getting all the drops and bead swags off was a bloody pain!
Step 1:
Base coat of Kilz original sealer/primer spray paint (Lowes or Home Depot) Applied to all parts, spacers, nut covers, finial and trays. No need to spray the nuts & rod, you never see them. (I'm sure there is a joke in there somewhere but I'm keeping my mouth shut! ha!)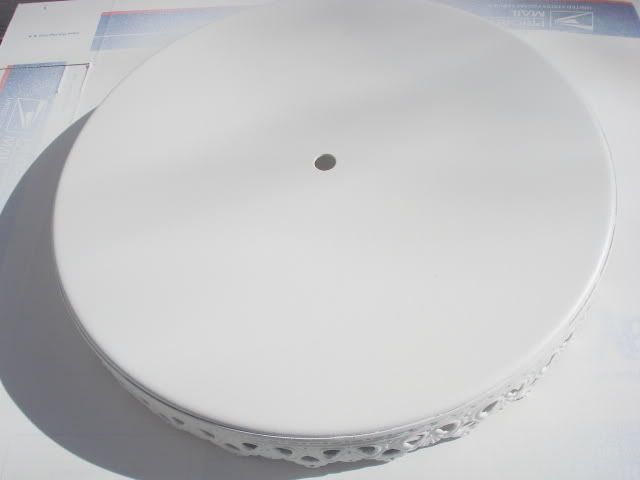 Let it dry completely before you spray the other side.
Now, if you are like me, who wants to sit around and watch paint dry, am I right or am I right!? ha! Look what I did while I was testing a new bluish spray paint, waiting for the server pieces to dry....
I got some blue paint on one of the spacers! Duh! Typical Tina ha! hmmm new blog name? ha!
BTW, I'll tell you all about that mystery blue in a couple of days, promise!
Step 2:
Two coats of American Accents Blossom White. Let dry between coats.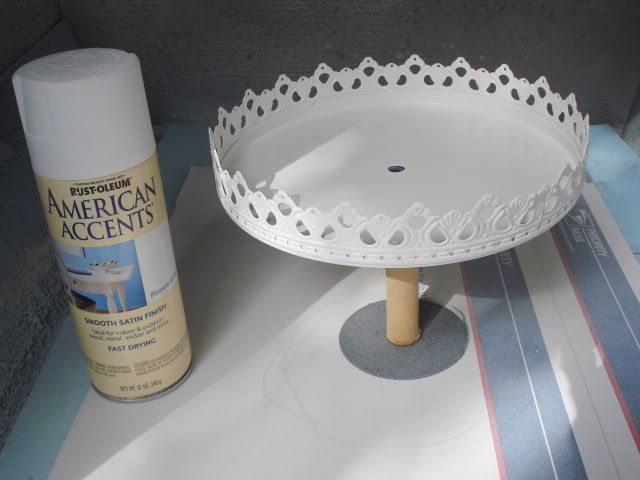 How many coats you apply is to your taste. Just be sure to let it dry between coats ;)
Once everything is dry, it's time to reassemble...fair warning for those of you who don't just scan the photos but actually read the words too...heehee I didn't put it back together exactly the way it was.....
......drum roll pleaseeee
......
......
......
.....scroll faster!
.......
.......
.......
.....TAH DAH!
And to think, I almost walk away without it! I so love it! Here it is without the faux hydrangea blooms & roses...
I have to add, painting something like this takes more work than painting furniture! All the drying time is a hassle, but I think it was worth it!
THE INSPIRATION PIECE
This 3-tiered server is just so perfect and pretty the jaw drops!
Photo Courtesy My Romantic Home
I so heart that server! It belongs to that lucky ducky
Cindy @ My Romantic Home
. If you haven't been to Cindy's gorgeous and inspiring blog, I have to ask...have ya been on the moon? ha!
DON'T DASH OFF YET!
The very talented
Paula @ Castle and Cottage
is having a wonderful giveaway that you should not miss! If you haven't already entered, click her button for info and post!

Good luck to all of you who enter!
Thanks so much for visiting me! I do hope you had a good time!
I'm linking up with: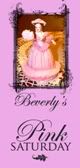 Our fabulous Beverly of
How Sweet the Sound
for
Pink Saturday
! Thanks so much for all your hard work, Beverly!
I'm also linking up with the amazing
Susan @ BNOP
for the
61ST Metamorphosis Monday
. Thanks for hosting Susan!
Last but not least, Cheri of Its So Very Cheri stopped by and invited me to link my post up with one of her fabulous weekly events, Its So Very Renovated. And to let me know of her new address! Be sure to stop by and wish her a happy blogwarming and be sure to re-follow up with her! Just click her button to pop on over!
Cheers!