Happy Pink Saturday! Lots to go over, so let's get started!
First, I (finally) won my first giveaway! *happy dance* I won this beautiful original art created by the very talented and creative
Denise & CC @ Couture de Papier
! I saved it for today because it is so perfect for this occasion!....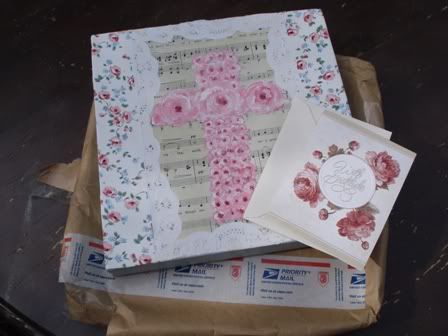 It is beautifuly handpainted shabby roses in acrylics pink on vintage hmnal music sheet and adored with vintage wallpaper and paper lace on 12x12" gallery wrap canvas!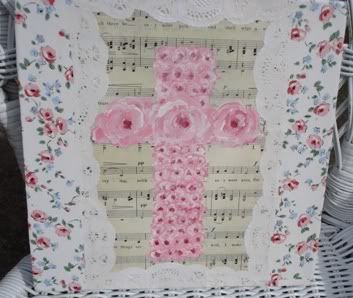 Thank you so much Denise & CC, it is so special.
Next, I'd like to wish everyone a very safe and Happy Easter! I made this collage, featuring my Guardian Angel cameo, just for the occasion!
Before we go on, I'd like to get a little sentimential. When I started bloggin back in late May 09' I had no idea what I was getting into! The kind, sweet, charming, clever, talented, creative people I have met over the months completely blew me away! You are all so amazing! *Clapping*
So here I am with just over 300 followers! OMGosh!! I am so completely thrilled that you not only came over to visit for the first time, but you wanted to come back for more! I deeply cherish each and everyone of you very special friend. *hugs*
Now, we had the poll, most of you have seen the results...Target Stores won with 54% of the votes! A special *hug* to those of you who participated in the poll!
The winner of my Thank You Giveaway will receive a $50.00 Target Store Gift Card.
How to enter:
All you need to do is leave a comment here.
For a 2nd chance, become a new follower or if you already are a follower, mention it in your comment.
Additional chances: This is not mandatory, but for those of you who tweet or post about my Thank You giveaway linking back to this post will also count. Don't forget to let me know by leaving a comment in this post!
UPDATE: THE GIVEAWAY IS NOW CLOSED! THANK YOU AND GOOD LUCK TO ALL WHO ENTERED!!
I'll announce the winner next Pink Saturday, April 10th!
Thank you again to all the lovely friend who have joined in on my madness! I love you all!
A big shout out to our fabulous Beverly of
HowSweet the Sound
for Pink Saturday! Thanks so much for all your hard work, Beverly!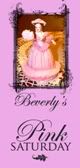 Wishing you and those you hold dear a very safe and Happy Easter!
Cheers!