Happy Pink Saturday Pinkettes! Hope everyone is doing well and recovering from all the Easter festivities!
Now fess up...who had a Cadbury Egg overload? ha!
Please don't get defensive...I have a confession. For me, something about those make me a bit,
queasy
. I just can't connect with it's sweet chocolately goodness when the inside looks like this....
Just seeing that photo makes me feel....
...me and those of you who had one
cad
too many! LOL!
I know, me bad! Oodles and oodles of peeps love them, including my beautiful daughter and my handsome son,
aka
Monkey Head Fred.
I'm sure you
KNOW
I'm just stalling and I
KNOW
some of you anxious peeps have scrolled ahead to see who won. ha!
I truly wish I could surprise each of you like Oprah..."everyone look under your keyboard...!" But I can't.
I do want to give a big huge thank you to all who entered, and major big smoochies to you darlings who tweeted and posted and helped spread the word about my giveaway!
You are all so special to me!
I completed the tallying, adding the tweets, postings and side bar announcements of the giveaway and the final number came to 205. I put it into the RandomOrg.com thingy...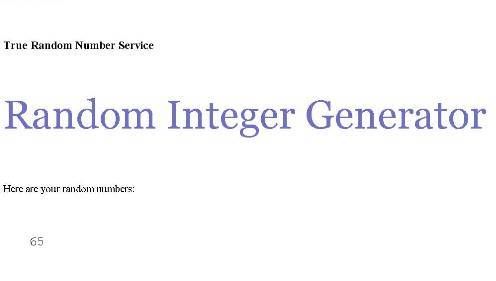 ....random number 65.....and ....here is that portion of the list....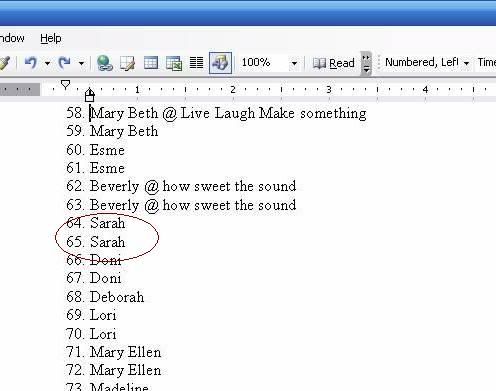 I'm so thrilled to announce that the wonderful and charming
Sarah @ Hyacinths for the Soul
is the winner of the $50.00 Target Stores gift card!
Sarah, email me at enchantedrosestudio@yahoo.com and give me your snail mail digits so I can get send your gift to you ASAP! Congratulations and happy shopping GF!
I'm going to have another one in a few months as I am approaching my 100th post (this one is 79) and near the end of May will be my 1 year blogoversary....so stay tuned! ;)
Again, thank you to all the lovely friend who have joined in on my madness! I love you all!
DON'T DASH OFF YET! Most of you know the incredibly talented Rebecca at A Gathering of Thoughts. Well, she had this fabulous "
Guess Who
.." contest a couple of weeks ago (
view here
). She's related to someone famous and we had to figure out who that is... and guess who won...
MOI!!

I won a set of absolutely stunning card created by Rebecca! Here are a few...
and they each came with matching tags! *happy dance*
These are as beautiful as her blog! Be sure you stop over and visit her if you haven't already! (click on her button for the express to her pinkalicious blog!)
Thank you so much Rebecca, you are so creative and talented! I will cherish these!
Last, but most certainly not least, a huge thank you to our fabulous Beverly of
HowSweet the Sound
for Pink Saturday! Thanks so very much for all your hard work Beverly!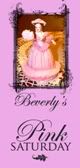 You can click Beverly's button for the express back! Have a lovely weekend!
Thanks so much for your comments and I'll be by to visit as fast as my bloggermobile can get me there! ;)
Cheers!