Happy Pink Saturday everyone! Thank you so much to our fabulous Beverly of
How Sweet the Sound
for hosting!
If you haven't already, do wander over to Beverly's blog and say hello. Get comfy and enjoy all the fabulous pinks the other wonderful and clever participants have posted.

With the holidays rapidly approaching the pace is going to pick up! In addition to all the usual holiday festivities, we will be busy decorating our homes and making out our gift list.

So, what do you buy for that friend/loved one who has everything, or is difficult to buy for? One gift idea that is not often though of is decorative tassels! Not just the run of the mill, basic ho-hum, find in any store tassel...I'm talking handmade, one-of-a-kind, little works of art tassels.

Before I show you what I put together, my fabulous daughter got a incredible Canon camera for her birthday and took these photos! I'm so jealous! The photos are so much better than what my old Sony produces!

My little Birdhouse in Winter look great in this shot!



I love its little snow covered roof....



Next is my Holiday Chic in the City Chickadee...



Love the sheer black and white polka dat ribbon and the beautiful beaded fringe against the feathers...



And for Pink Saturday, here is my chic and shabby Bird in Pink Paradise tassel....



The photo don't show how sparkly this one is, it dances in the light...



Here is a full shot agains my white painted dresser...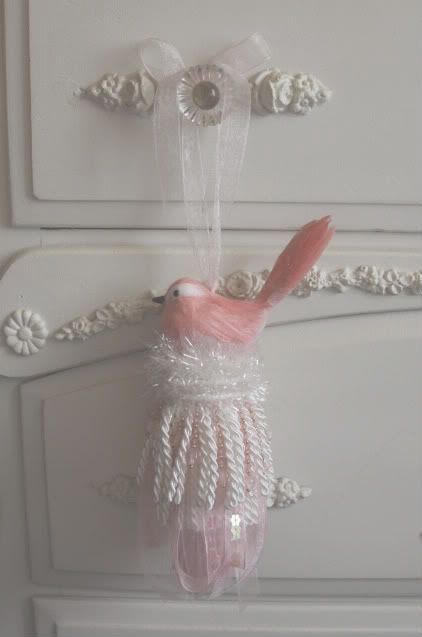 Another version of the silver birdhouse (I haven't thought of a name for it yet..any suggestions? I really love the silver satin ribbon agains the white fluffy fringe and the jute fringe under it.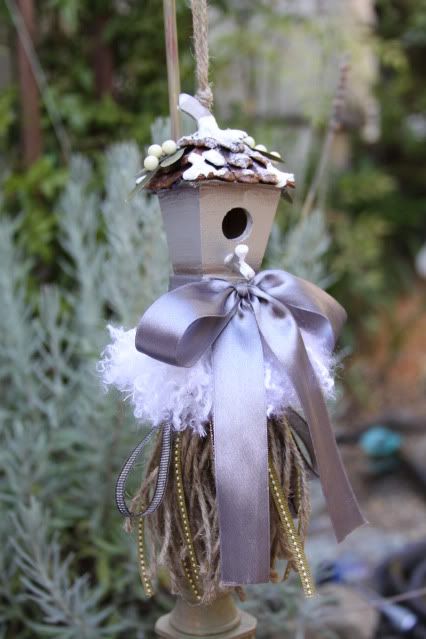 A great shot of the faux sparkling snow on the roof .....



Here is a new Christmas tassel I made, I call him Howard the Happy Holidays Reindeer...



Isn't he a cutie?!

I love the different personality that each one has! These are all brand new, just made them this week. If you are interested, here is the link to my tassels listed on ebay. They should be there by Saturday!

A big thanks to each of you who took the time give me feedback on my new ebay listing header! I truly appreciate it. *hugs*

Thanks so much for taking the time to visit me! I love reading your comments!

Now I'm off to see what the other fabulous participants have posted for
Beverly's Pink Saturday
! Everyone is always welcome! Do join us, won't you!?

Hugs & kisses!