I don't know about anyone else, but I had a heck of a time getting this post together. What in the world is going on with Blogger? It's impossible to load your dashboard. Took me forever to get this post together. Arghhh! "Taking deep breaths" I'm here now that is all that matters! Get on with it, Tina!
Thank you so much to Gina at
The Shabby Chic Cottage
for hosting this event. If you aren't participating, no worries, you are more than welcome to view all the wonderful Feathered Friends photos posted by the participants.
I didn't realize how many feathered friends elements I have around my tiny home. I was kinda thinking...gee I must like our fine feathered friends ha!
Of course I have tons of birdhouses that I have mosaic'ed. I put a few together in a collage, or should I say, a mosaic of a few my mosaic birdhouses.....
I love the birdcage I recently finished. The focal of the roof is a lovely cameo of 2 doves...
I have at least 25 birdhouses overall that are already primed and read for me to mosaic; here are just a few (some are still wrapped up in brown paper)....
I have 4 of these left...
and this next one I'm keeping for me! ha!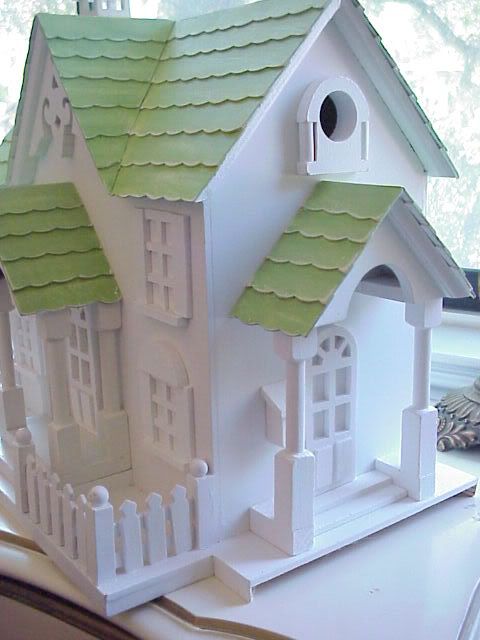 I love the little mailbox by this side door. I havent' decided what I want to do with it yet, but that roof color is not staying! ha! I have birdies and birdhouses on my hutch...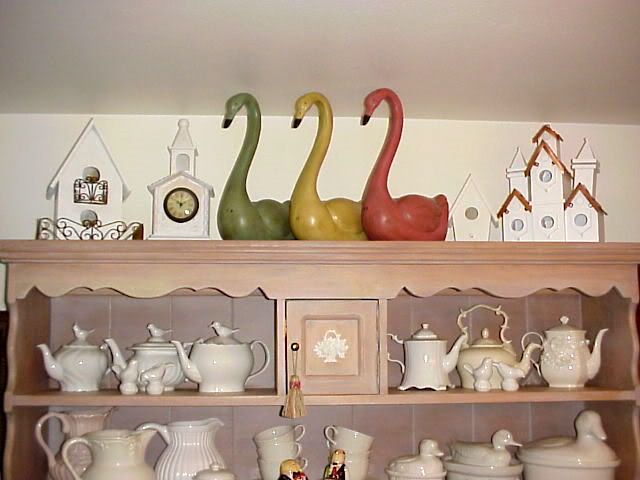 I just have to show you a closeup of the birdhouse on left, it's got this great rusty, scrolly railing and balcony....
I have birdie teapots on the shelf....
my quackers and birdie napkin rings....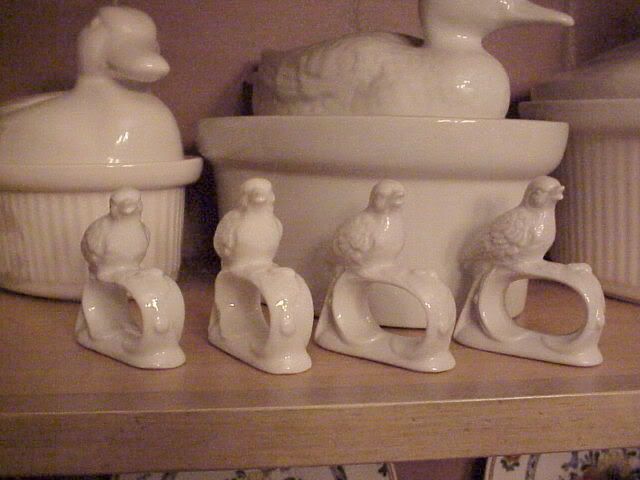 birdie S&P (yep the dynamic target duo, I bought 2 sets)...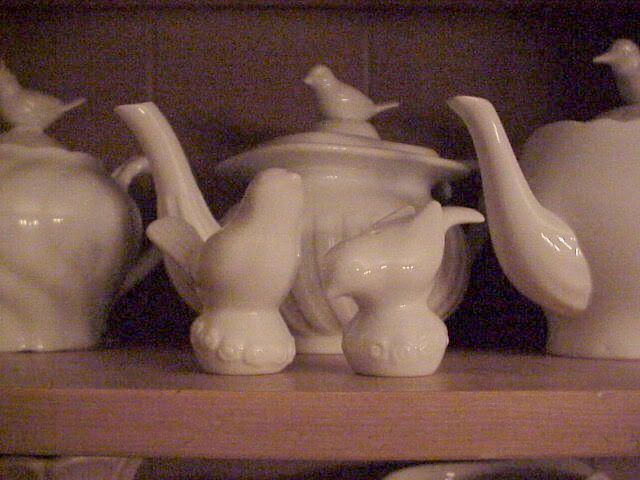 A cute pair I found thrifting....
I have a large oil on canvas painting of Swans on my wall (my sister painted it)....
And I have a birdhouse on a tree....
Do not awww at that squirrel on top of the birdhouse! He's NOT cute...he's the sneaky, dasterly rose bush and flower killer. He's worse than Godzilla! Squirrels are no different than rats; they just have better outfits!
And of course, I have birdies adorning Christmas wreaths; here is one I did in bronze n gold (sorry for the lousy photo). Ever notice how wreaths always look prettier in real life than in photos? See the 3 birdies?.....
Since the holidays are rapidly approaching, I'm sure you will see more my creations!
Well, it's not all of my fine feathered friends, but I think I've shown enough for one day! ha!
Be sure to stop by Gina's to venture on to view the other
Feathered Friends
post!
Ciao Bellas!