Happy Pink Saturday everyone! Thank you so much to our fabulous Beverly of
How Sweet the Sound
for hosting!
If you haven't already, do wander over to Beverly's blog and say hello. Get comfy and enjoy all the fabulous pinks the other wonderful and clever participants have posted.
I love, Love, LOVE, roses! Since I have no real yard to speak of, I have a modest container garden. We have three containers full of roses. One in particular is a bit quirky, in a good way.
When I first bought it, the roses were a beautiful sherbet color. Now, before you skip down to the photo, let me clue you in it's quirkiness...it chooses it's own color. Sometimes the buds are pink and bloom orange sherbet, sometimes orange buds, pink blooms; you pick a variation between the two colors, it's likely this rose bush will do it.
This bud started out peach and now.....
directly beneath this pink rose...
is this peachy pink rose...
love this shot, see the peach bud on the left behind the pink bloom....
I don't know the name of it. If you do, please clue me in. Seeing it today, you'd never guess that back in May, that rose bush (among others) was nearly destroyed. Was it insects? Inclement weather? Vanadals? Well.....I'm sure some of you have seen this photo in a previous post...
That's no cutie pie. That's the
mean, nasty, dasterly, ruthless flower killer
,
Godzilla the Squirrel
. Godzilla is soooo fat because it's been feasting in it's personal smorgasborg...our container plants! After it finished off our roses and geraniums, Godzilla started in on the impatients, see the uneven growth on the top...
That menace had to be stopped! We decided to declared war. Our weapon of choice, cat hair and the garden hose. After grooming Da Queen of Da House, instead of throwing out the cat hair, I'd spread it around the patio and inside the containers. When we caught sight of Godzilla, we'd turn the hose on it. The battle raged on for 3 weeks. Then it seems Godzilla has retreated and gone off to find another garden to pillage...here is the impatients in July...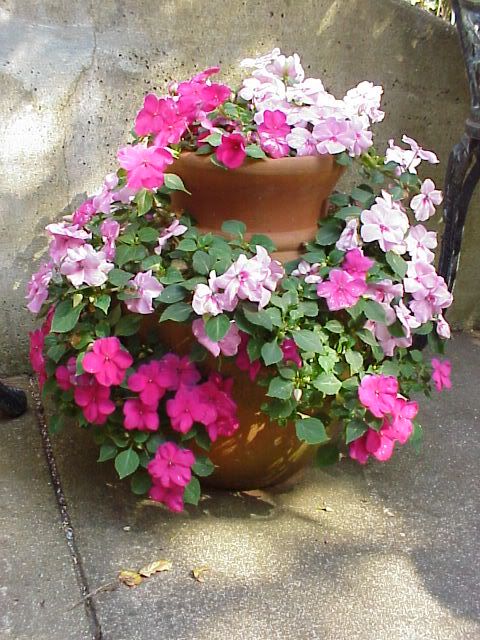 did you notice how nicely it is growing back? And here is a photo I took the other day...
As you've already seen, the roses are growing back nicely as well. I'm sad to report that the geraniums aren't doing as well as they were before Godzilla came along.
Now, if you have any of Godzilla the Squirrels relations ravaging your birdfeeders, Susan at
Between Naps on the Porch
came up with a brilliant weapon! (She's so clever!) Check out her post
here
.
That's it for today! I'm off to see what the other fabulous participants have posted for
Beverly's Pink Saturday
! Everyone is always welcome! Do join us, won't you!?

Hugs & kisses!