Greetings dear bloggers! Hope all is well and you've been having a lovely spring.
I haven't posted in a bit (as usual). So sorry about that. Time, life, procrastination, what can i say? Mostly, I feel like I should post something helpful in a problem solving sense, or, useful in a tutorial sense. Well my darlings, today is not one of those posts lol, but I promise, loads of fabulous photos.
Starting around the age of 5, one of my favorite past-times was to sneak into my mother's stash of shelter magazines (of which she had many), and while away many hours absorbing each and every delightful page. I was more interested in decorating Barbie's house instead of playing with the doll. Though I must confess, fashion magazines ran a close 2nd.
Anyway, after oodles of delightful hours and years and years of pouring over shelter magazines,
"my style"
developed into a very broad and diverse range. It is what's generally defined as "eclectic". Always makes me wince a bit to hear or say that word...
"ecelectic"
.
Personally, I like to think of my style as...
timeless
. I am passionate about pieces that have a timelessness about them. That wonderful quality that blends seamlessly with a broad range of styles.
Today I am sharing my passion for one that was previously thought of as modern or art deco, and now, blends well in any decor style. Being more versitle than in the past, they can stand on their own, or add funtion without adding visual clutter.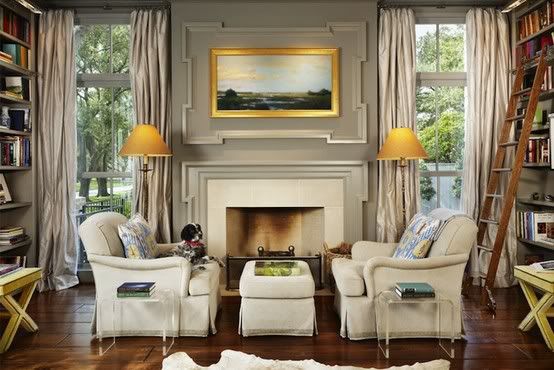 Did you notice the acrylic end tables? No? look again.
As I said, almost invisible but adding function.
Acrylic furnishings can also command center stage...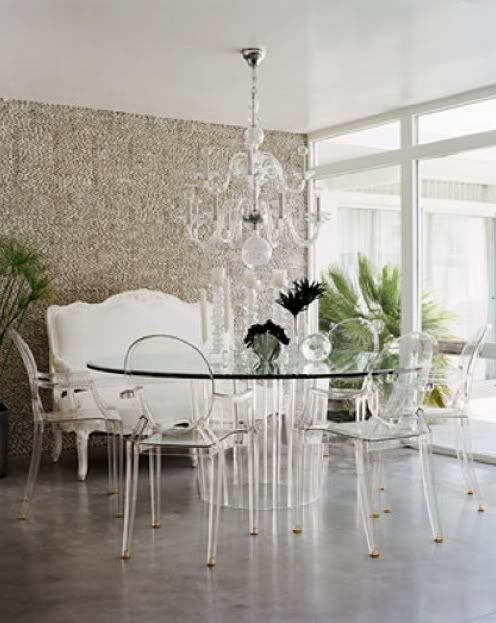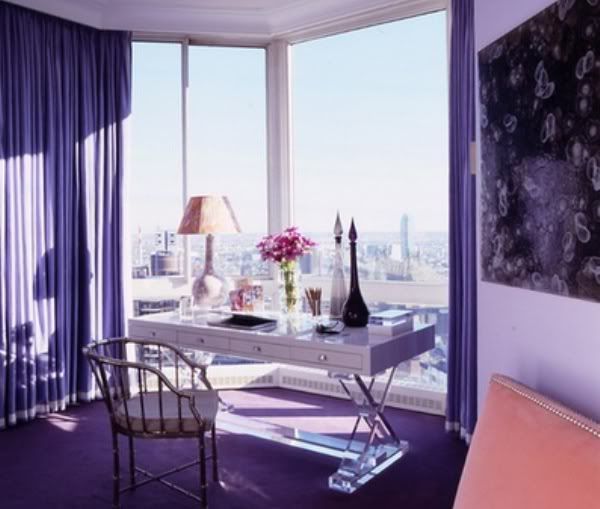 Jamie Drake Designs

love, love, love that desk!
Some call it Lucite and others Plexiglass. In truth, those are trademarked names and both are acrylic. Today, manufacturers offer many new designs and even a wide array of colors, as in these Louis XV Ghost chairs by
Kartell
...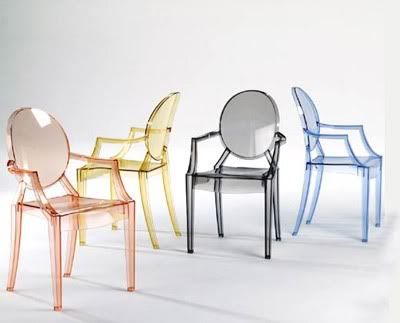 Or offer color via upholstery, as in these Bella chairs by
Spectrum-Ltd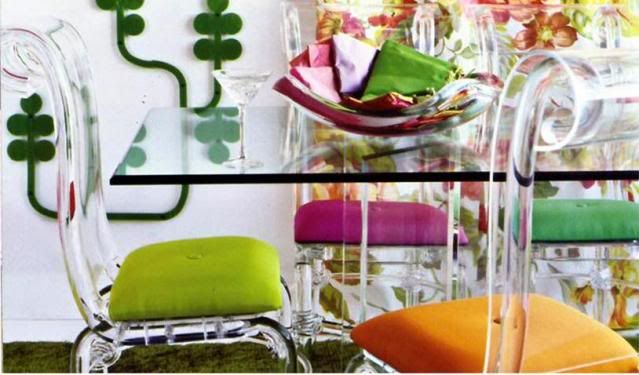 A recent obsession is over this Lucite cube from anthropologie....
Charming...yes? Unfortunately, no longer available. Here is a pair used in a more traditional living room grouping.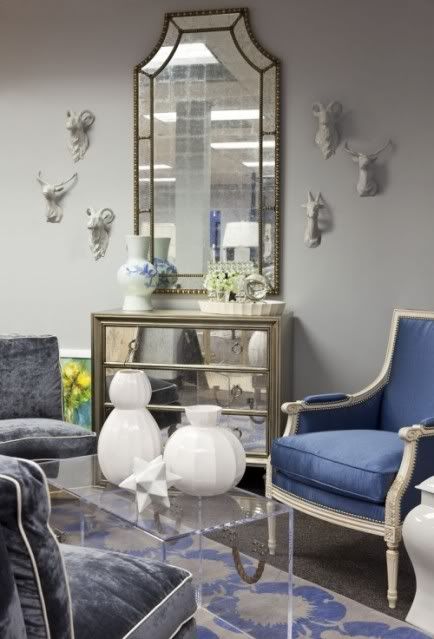 Again, they add function without clutter or distraction, yet such an integral piece in pulling the design together.
On a larger scale, this trunk by Serge de Troyer is so fabulous and expensive ($2,950.00)!
Not only does it holds it's own atop this black and white chevron rug, it adds that
"je ne sais quoi"
to the decor.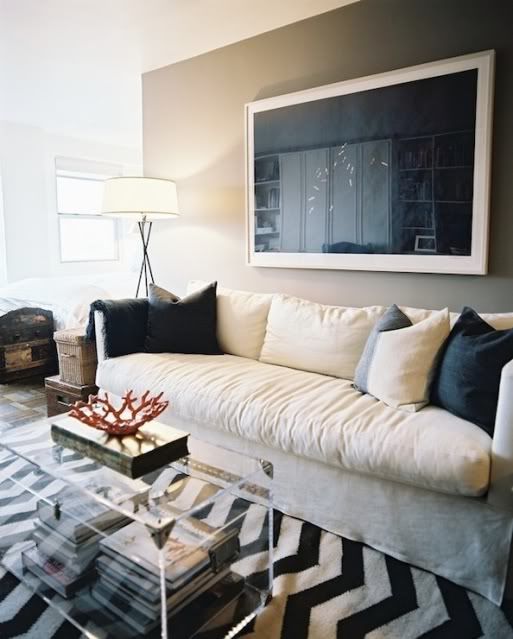 There is a less expensive 24"x24"x16" trunk offered by
Plexi-Craft
for around $396.00 with brass hardware or spend an additional $50.00 for chrome. They also offer custom sizes for an additional price; and monogramming.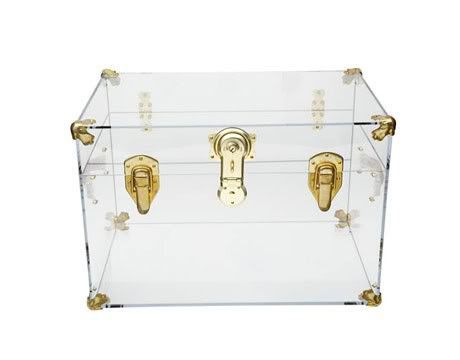 Imagine that fabulous trunk in a more shabby/romantic setting displaying a vintage quilt collection (whilst adding additional storage...win win!).
While we are on the subject of a more soft, romantic, sophisticated feel, how about this charming table and chair pairing (I'm imagining the walls the palest of pink)...
The chair is the George II by Plexi-Craft, I adore the tuffted seat. Did you notice the scalloped apron of the table?
Here is a closer look at one...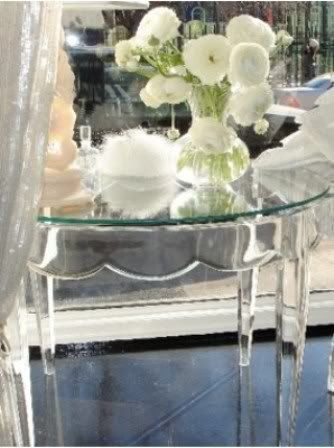 So sweet and charming!
I crave that table!
The next two photos probably look very familar to you as this bedroom been all over the blogosphere and web. It's one of my most favorite bedrooms!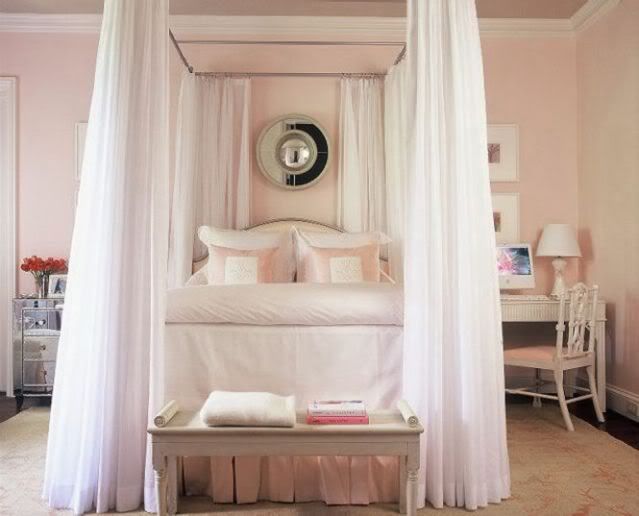 Phoebe Howard Designs


Pink perfection personified!
Did you know that bedroom has a sitting area?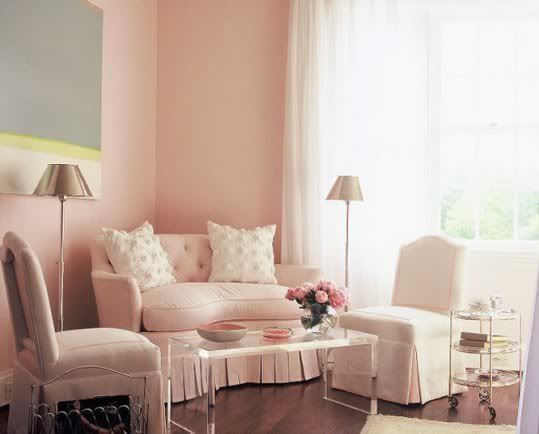 So charming! Mrs. Howard used the Lucite coffee table to seamlessly blend in. It adds such glam and shine without clutter or distraction, so brilliant! (pun included lol)
Here are a few other examples that have been added to my inspiration file (and my pinterest!)


Last but not least, this darling swivel acrylic chair...


The next time you have a "problem" space, perhaps an acrylic piece will give your decor that "je ne sais quois" you've been seeking! Then of course, you'll have rendered this post to being informative, inspirational, and helpful! *cheeky grin*
I hope you have enjoyed your visit and thank you for taking the time to leave me your sweet thoughts and comments!
Be well!
Cheers!