UPDATE: MARCH 22, 2012
The complete tutorial is now available
HERE
Greeting! So sweet of you to stop by for a visit! I hope that all is well (and warmer) in your world!
Do you have a cuppa and a comfy seat? You know my post are photo filled ha! But I must confess, I love spending the time with you!
Let's begin with this interesting little diddy. According to Dictionary.com, a
glutton for punishment
is:
someone who habitually takes on burdensome or unplesant tasks or unreasonable amounts of work
.
Hmmmmm
now why does that sound somewhat familar? ha! Let's see shall we?
First, credit where credit is due!
Most of you may be familar with Stephanie Lynn at Under the Table and Dreaming and her post and tutorial about her stunning faux rosewood wreath
here
.
I was so inspired by Stephanie's gorgeous creation! (Thanks so much for sharing with us Stephanie!)
Of couse, like most things I do, I always add my bit of a twist. ha!
Some of you may recall that I left a little teaser in my last post about it.
I believe this is where we left off....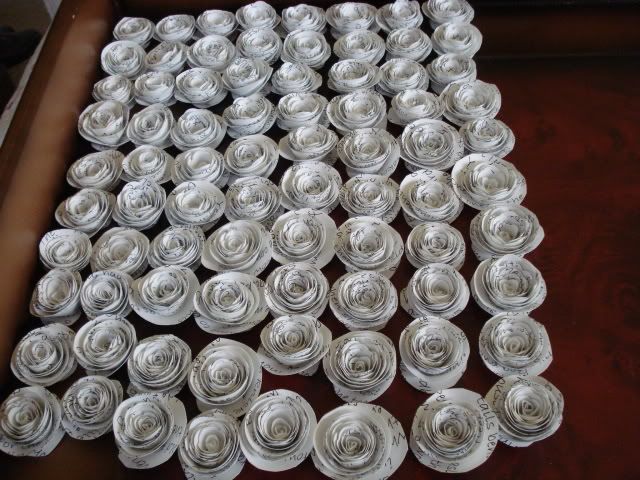 those paper rosettes (plus another 150+ more) became this....

Hello Gorgeous!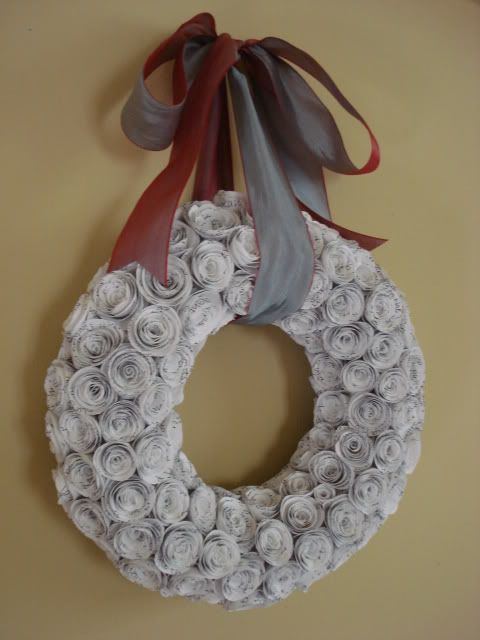 I'll post a more in-depth tutorial about how I did it in my "How To blog" soon. For now, here is the shortened version...
I covered a round 10" styro wreath form with torn strips...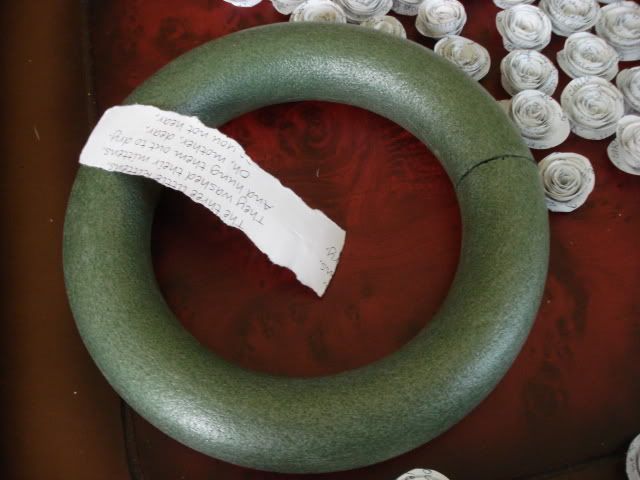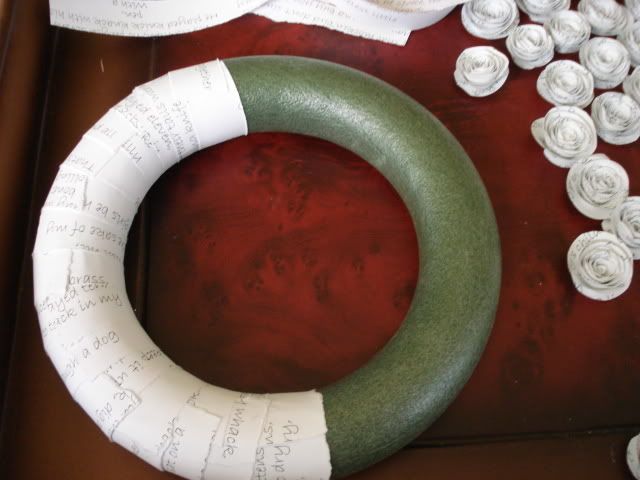 filled the wreath form with the rosettes...




I started applying the rosettes without any pattern in mind as I was going to cover all sides.

This is how much (or how little) the 80 rosettes covered.




After making another 150+...




I tied the last of my favorite two-toned ribbon...




Normally I would have only covered the front and sides but this one was going on the mirror....




So much prettier than having a plain backside showing..yes?! ha!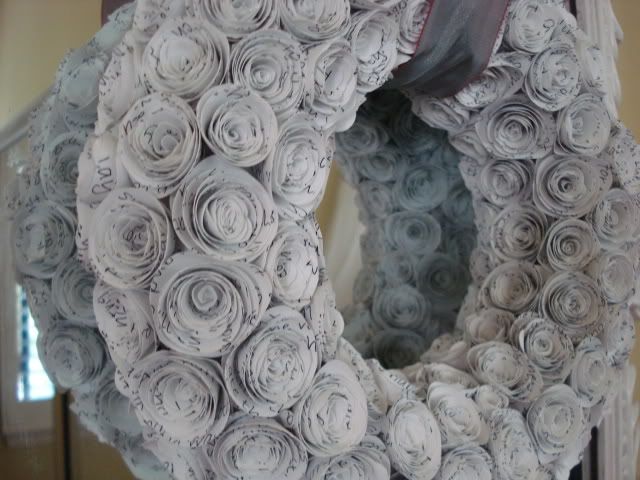 You would think I would just sit back and enjoy the fruits of my labor. But
nooooooo
not me!
NOTE:
This is where the definition I posted at the beginning might apply ha!
I wanted to make one for Valentine's Day. Being the
glutton for punishment
that I am, I rolled up 100 of these...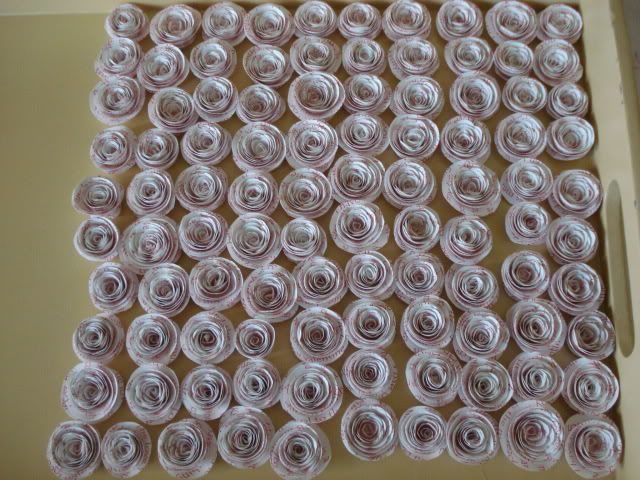 See the red ink? It ends up looking pink, which is exactly what I wanted.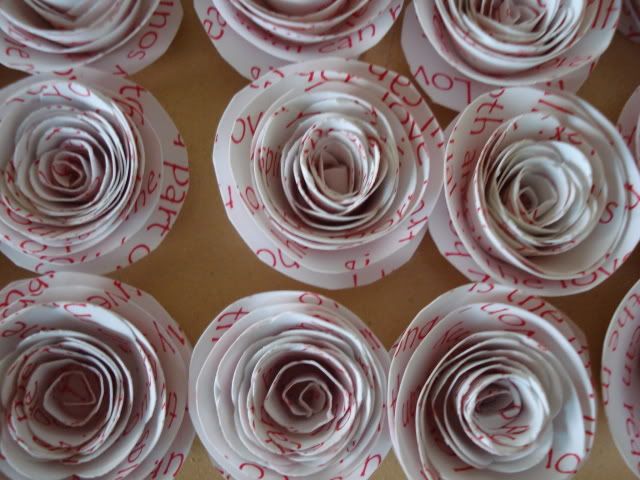 ...covered a 12" heart shaped styro wreath form and first applied the rosettes to the inner and outter sides....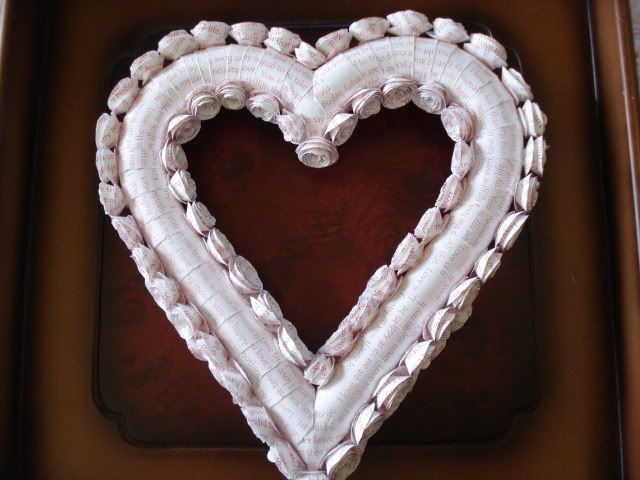 Then started filling in. I'm afraid that the 100 rosettes only covered about half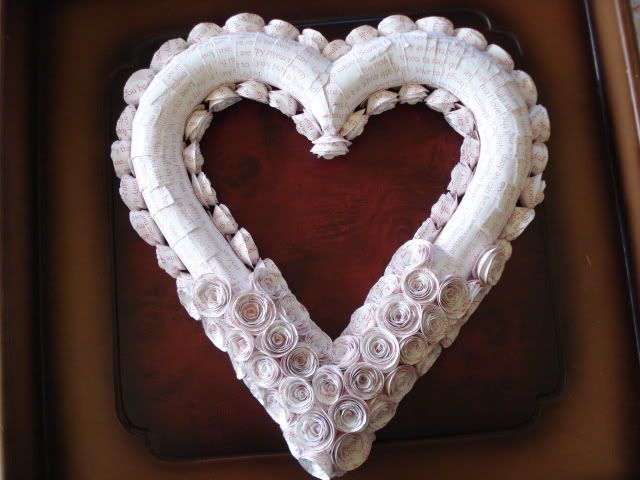 after making another 150+

can you say soooo pretty in pink?!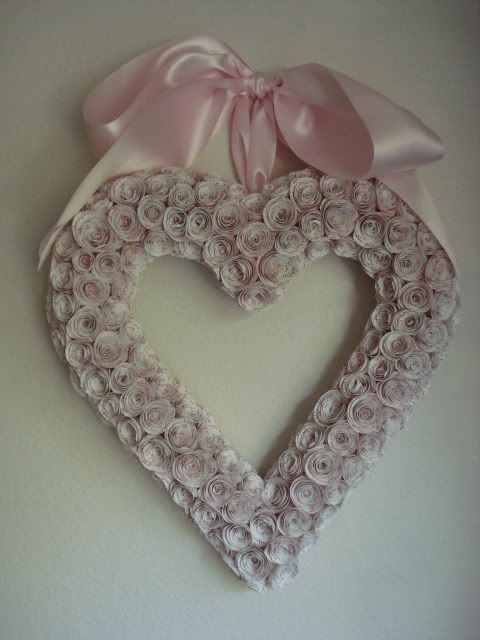 I added the pink satin ribbon to kick the sweetness up a notch ha!

Don't you just love it?!

Here is a look at the finished back....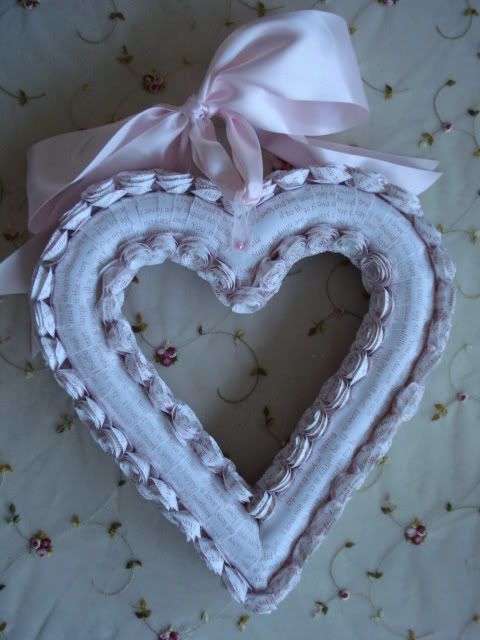 I must reiterate that these are such a pain in the patootie to make. As anyone who has created one of these will tell you they are very labor intensive!

But so darn worth it!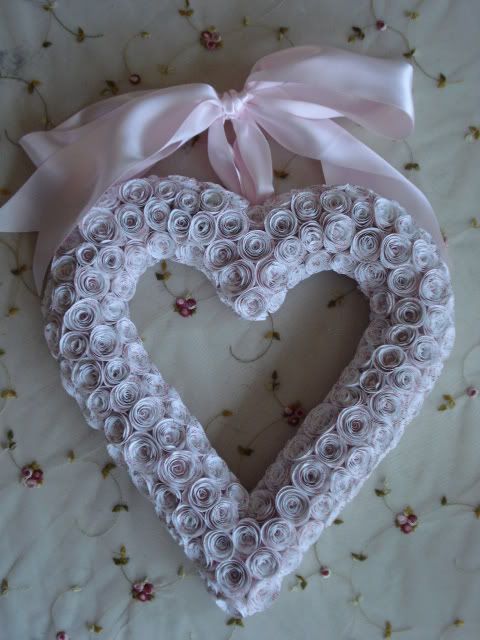 This pink heart wreath did me in! After rolling what seems like millions of these...




I ended up with....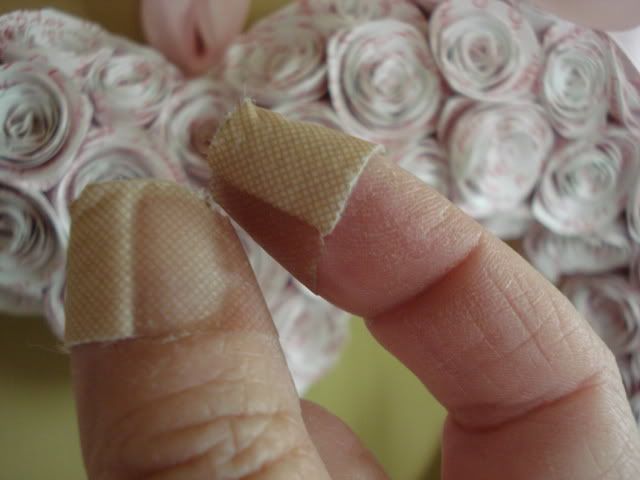 OUCHIES!

As they say...the price of beauty! ha! So darn worth it!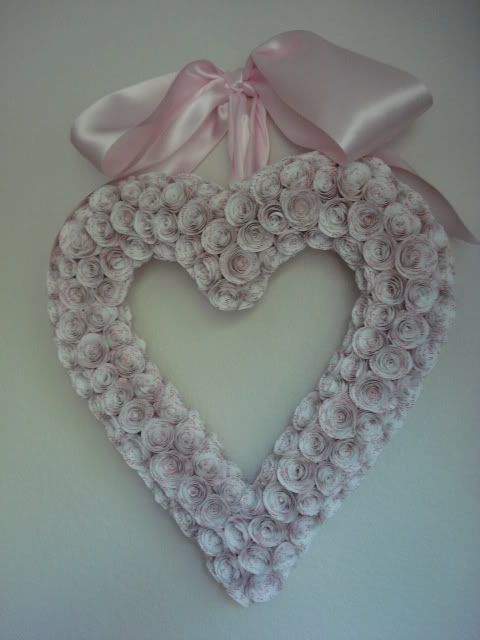 Originally I was going to make a couple to sell in my Etsy shop. I haven't because I don't know how much to ask for one. Friends and family have offered a range of $100-$150 being a fair price because of all the work and time involved.
What do you think? I know most of us all DIY, but if you couldn't, for whatever reason make one and wanted to buy one, what do you think would be fair? I've truly not a clue!
Needless to say, I'm just thrilled that I
finally finished
both. And I personally feel that DIY is just a nice way of saying Glutton for Punishment! ha! Maybe we should start a club? Or at the very least seek therapy....yes? ;)
Thanks so much for stopping by and for taking the time leave me your sweet thoughts! You are a darling!!
Cheers!
I'm linking this post up with the following fabulous hosts: